Thursday 24 June 2021
Torn asunder by Covid, reunited travel industry sends strong message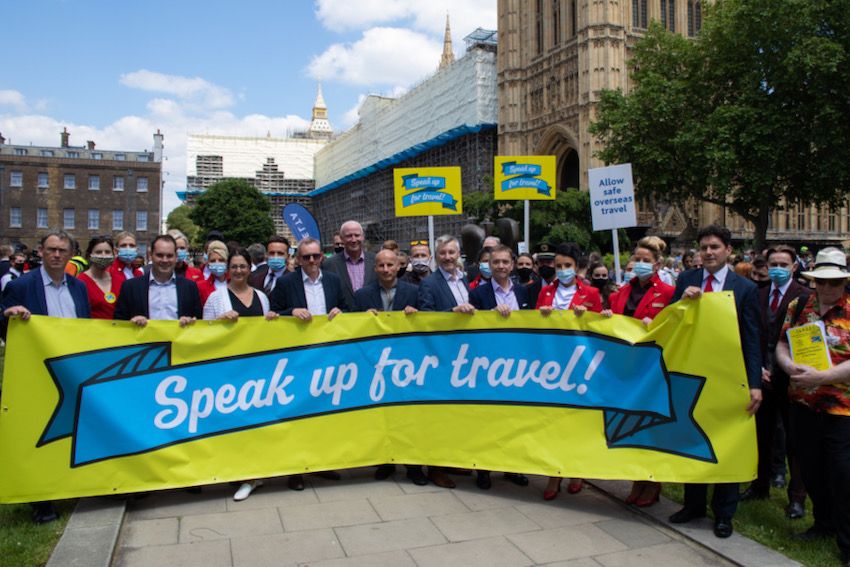 Despite the severity of the situation, there were many smiling faces on College Green in London yesterday, one of several locations around the UK where the travel industry had gathered to drive home its desperate message to government.

Many among the hundreds gathered by the Houses of Parliament (which surely would have been more had Covid restrictions not limited attendance) had not seen friends, acquaintances and even colleagues – new and old – face-to-face for well over a year, myself included.

This was the travel industry at its best, competition and contrasting needs set aside, calling on the government to deliver tailored financial support to this 'orphaned' sector, to open up international travel, and to remove quarantine for the fully vaccinated.

Pilots and cabin crew from Virgin Atlantic, British Airways and easyJet stood shoulder to shoulder for publicity photos, while leisure and business travel agencies, tour operators and trade associations waved placards, chanted and lobbied some 20 MPs who had accepted invites from their constituents to come and hear about the industry's plight.

Among them was Huw Merriman, Conservative MP for Bexhill and Battle, and chairman of the Transport Select Committee, whose support for the travel industry has been widely praised.

"It's frustrating that it's taken this for the industry to be back together but it's great to see everyone here," said Clive Wratten, chief executive of the Business Travel Association, whose media engagement for the day started with a radio interview at 6am and finished in a TV studio in the late afternoon.

"The rest of Europe is opening up but it's happening disturbingly slowly in the UK. The greenlist has to be expanded and I'd like to think the situation in the UK and US [with good vaccine programmes] would enable a travel corridor. But it's been ten days since the announcement of a UK-US taskforce and we've heard nothing since."
The event, coordinated by the 12 member associations of the Save Future Travel coalition, was successful in achieving at least one of its goals – to capture the attention of national and international media. The travel sector's plight was discussed across many media outlets and covered by leading news websites. Three industry leaders I spoke with conducted dozens of interviews during the course of the day.

What would success look like? "It would be a tailored financial support package for our sector, the safe resumption of international travel through the traffic light system as it was intended, and the opening of a US corridor which is so important for business travel," said Julia Lo Bue-Said, chief executive of the Advantage Travel Partnership. "There's no reason why travel should not recommence; we just need the political will.

"This is a completely united industry today and this is a four nations event," Lo Bue-Said added. "We are all desperate for the safe resumption of international travel."

Coordinated events also took place in Edinburgh, Belfast and Cardiff, while many airports joined the campaign.

Although a large part of the campaign's focus was to "Save Our Summer" – the key period for the leisure travel sector – all international travel is at stake, said Wratten.

"Business travel is dependent on leisure travellers having a good summer, going away, seeing that new systems work, and having the confidence to travel on business again in the autumn."

Does he share ABTA chief Mark Tanzer's view that the government wants to 'embrace an opportunity to boost domestic demand' at the expense of the outbound travel sector?

"There's reason to believe that," said Wratten. "I do think we're being over-cautious now. The government doesn't see travel as a core industry."

An industry in jeopardy
ABTA, one of the event's key organisers, believes some 195,000 jobs in travel have been lost or are at risk due to the pandemic, while job cuts in the business travel sector – and TMCs in particular – are thought to exceed 50 per cent at many businesses.

At Gatwick Airport, which I passed on my train journey into London, passenger traffic has collapsed nearly 80 per cent, staff numbers have been cut 40 per cent, and more than two-thirds of remaining staff are furloughed. Pre-pandemic, the airport supported one in 12 jobs in the region.

Many TMCs continue to trade at around 10 per cent of pre-pandemic volumes. Eton Travel, which before Covid had an annual turnover of £50 million, is among them.

"Furlough has been good but we have to start paying 10 per cent from July when we'll continue to have very little productivity," said the TMC's commercial manager James O'Donnell.

"We saw an encouraging upward tick which took a nosedive when 'freedom day' was pushed back. We all know we're not going to get back to 100 per cent volumes any time soon but we just want to be able to trade at some level. We need targeted support.

"It's crazy that I was able to go away on holiday to Spain last year but we're now in a situation where I'm fully vaccinated but there are more travel restrictions and complexity than last year," added O'Donnell.
For Ace Travel Management owner and CEO Sarah Wilson it was the removal of Portugal from the greenlist that was the last straw, while the government's decision to allow expanded capacity at Wembley for the semi-finals and finals of Euro 2020 with quarantine exemption for overseas VIPs and UEFA/FIFA executives "adds insult to injury".

"'Global Britain' is fast becoming 'shrinking Britain'," said Wilson. "The government does not understand business travel and is just not listening. There's a lot of ignorance. If we only had 20 per cent of the world open to us it would be a huge blessing."

Abby Penston, chief executive of the Focus Travel Partnership added: "We desperately need financial help. Furlough must be extended for the travel industry. TMCs provide such a key role and they will be needed more than ever when we do start moving again.

"No one is making any unrealistic demands here today. We all know travel needs to be brought back in a risk-managed way. People have got on with the vaccine programme and now we need to see some return."
With an updated greenlist expected later today and key travel policy reviews imminent, the BTA's Wratten perhaps best summed up the occasion: "Business travel's profile is at its highest but it's for all the wrong reasons."