Thursday 21 November 2019
New One Call Service Delivers Stress-Free Claims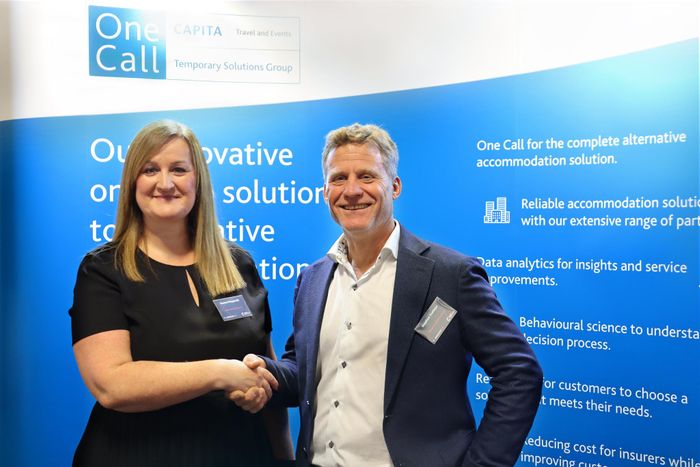 Capita Travel and Events' fresh approach to alternative accommodation, our One Call service, is ensuring homeowners experience less stress through an enhanced customer journey while also saving costs for insurance companies.
As a leading travel management company, we've joined forces with The Temporary Solutions Group, market leaders in temporary kitchen, bathroom and storage solutions, to offer this unique service. By making just one call, all suppliers involved are integrated to ensure suitable alternative accommodation is provided quickly and seamlessly with ongoing communications.
Capita Travel and Events is meeting the needs of policyholders by relocating them from a stressful situation, whether it is an incident caused by fire, escape of water or other means, to safe accommodation until they can return home again. Whilst homeowners are in alternative accommodation, they have the choice of returning home quicker with a temporary solution. The Temporary Solutions Group can quickly assemble a compact, yet fully-functioning pop-up kitchen, bathroom and storage capsules. , This enables more customers to spend less time in alternative accommodation and more time in the comfort of their own homes.
"We are the first travel management company to enter this market and, by teaming up with The Temporary Solutions Group, we can marry our skillset to offer a cost-efficient alternative accommodation solution focused on optimising customer services. Because of our background in accommodation we can use our buying power and specialist expertise of disruption management services to provide a seamless service which creates better outcomes for insurance companies and their customers," explained Donna Fitzgerald, Customer Solutions Director.
Stephen Trollope, Founder & Director of The Temporary Solutions Group, explains why this is such a unique offering to the marketplace: "It is in the interests of both the homeowners and insurance companies to get the homeowner back home as soon as possible with minimal impact. The beauty of making just 'One Call' alleviates stress from the home owner as the process is simplified and quick, which also supports insurance companies' objectives of enhanced customer services."