Wednesday 13 February 2019
FCM Launches Travel Arrangers Version of Sam Chatbot App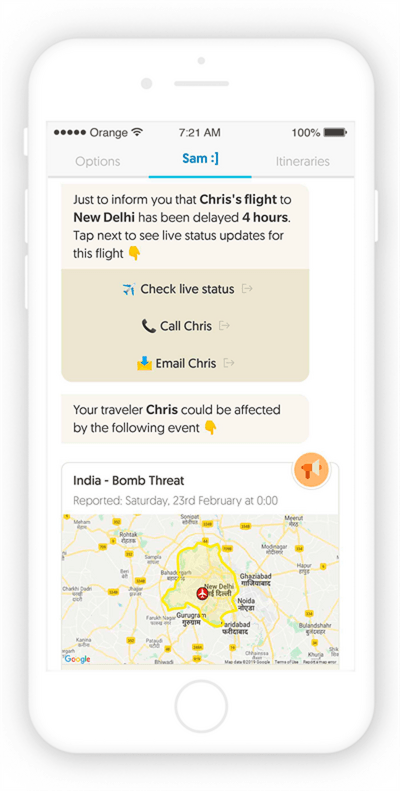 FCM Travel Solutions has announced the launch of new functionality to support travel arrangers within Sam, the travel management company's ground-breaking AI chatbot-based mobile app for business travellers.
This enhancement of Sam has been developed in response to client demand for greater visibility of their travellers in-trip. The new version for travel managers, PAs/EAs and bookers grants them access to view their current travellers' itineraries, as well as receive notifications about events that affect each traveller, such as flight delays or cancellations. As a result travel arrangers can take appropriate action or communicate directly with the traveller to ensure their wellbeing.
Sam for Travel Arrangers dovetails with FCM's Connect technology suite as travellers' itineraries for the relevant booker are pulled from FCM HUB, the gateway to the TMC's booking, approval, security and reporting solutions. In the travel arranger's view of the app, itineraries are sorted by nearest travel date. A traveller can also mark a trip as personal in Sam if he/she does not want it to appear in the arranger's view.
Sam blends a powerful mix of Artificial Intelligence with the expertise of FCM travel consultants to deliver personalized, relevant information to business travellers' mobile devices through a chat-based interface. The app has been available to FCM clients' travellers since it went live in the App Store and Google Play in November 2017. However, Sam is not a fixed mobile application and FCM is continuing to evolve its features to meet users' requirements and match AI/chatbot technology developments. Updates and enhancements are introduced quarterly based on users' feedback and FCM's own innovations.
"Our approach from the outset has been to engage with our customers and create a product that would genuinely be relevant to their needs. The whole philosophy of the FCM Lab team that drove Sam's product development was that travel is frequently challenging and stressful for business travellers and these customers need more proactive support," said Marcus Eklund, Global Managing Director, FCM Travel Solutions.
"FCM's primary focus is still on ensuring Sam is consistently updated and relevant to the needs of business traveller users. However, feedback from our clients told us that travel arrangers would find it useful to have a version of Sam that supported their role and the need to stay up to date with their travellers throughout their trip. Hence we have developed this new version of Sam for Travel Arrangers. We piloted it with a focus group of clients last year, made some tweaks based on their feedback, and have now gone live with this version," said Eklund
FCM will be demonstrating Sam for Travel Arrangers as well as other new features on the TMC's stand B130 at the Business Travel Show in London on 21 & 22 February 2019.