Capita Travel and Events' customer service excellence award goes for gold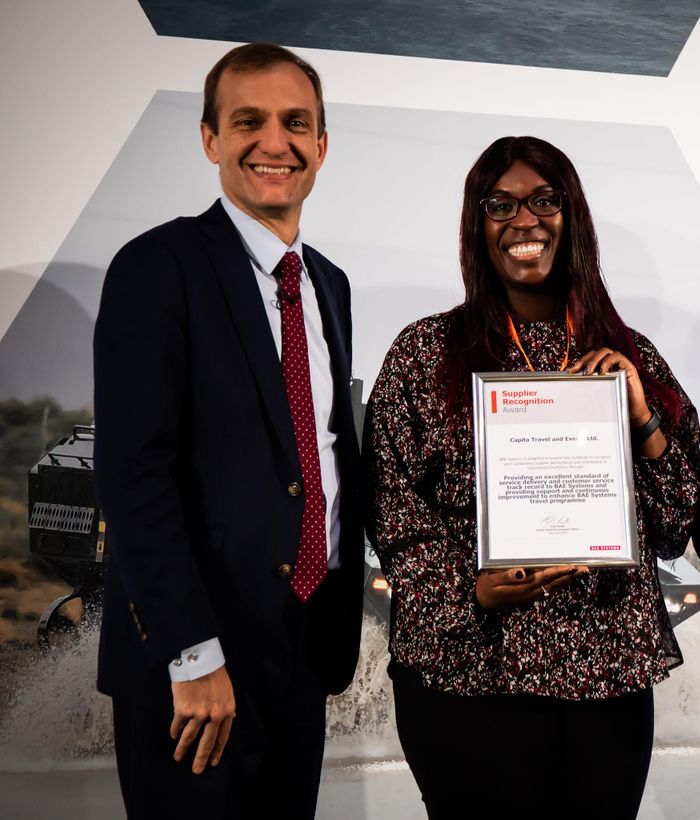 Capita Travel and Events' customer service excellence has been recognised and given 'gold' status by BAE Systems, a key Capita client that specialises in the multinational defence, security, and aerospace sectors.
Out of BAE Systems' 6,000 UK suppliers, we were among the select few to win a gold status following a nomination by their UK Travel Category Manager, Joanne Simpson, for their global supplier management scheme: 'Partner2win'.
Capita achieved this result through their excellent standard of delivery and customer service track record to the company while continually enhancing BAE Systems' travel programme.
BAE Systems' key assessment criteria for 'gold' status includes the quality, cost savings, satisfaction ratings and relationships of a partners' customer service. The awards programme is one of the components of the Partner2Win scheme which aim to initiate best practices and address future improvements.
Joanne Simpson, BAE Systems' Travel Category Manager said: "Capita Travel and Events are BAE Systems' travel provider for hotel bookings and meeting and events services. I am delighted that we have been able to recognise Capita Travel and Events through the Partner2Win scheme, which recognises outstanding supplier performance and highlights the important role our suppliers play in helping us to achieve operational excellence and deliver our commitments to our customers."
Strategic Account Manager, Ann Thomas, collected the award at BAE Systems' annual Industry Collaboration Day.
"This is the first time their indirect procurement function has nominated one of their suppliers to this scheme, which is a testament to the relationship we have built and how we have optimised their travel programme by identifying cost-saving opportunities. Considering the sheer scale of BAE Systems' supplier network, it really is a fantastic achievement and I would like to thank everyone involved on the account," says Ann.