Monday 2 August 2021
Buyers from Ford Motor Company, Sony Pictures Entertainment, Sodexo, Paraxel, UBS, Capgemini and more confirmed to speak at Business Travel Show Europe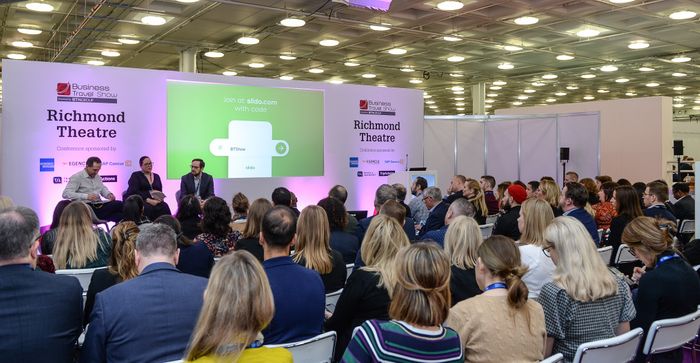 Buyers from Ford Motor Company, Sony Pictures Entertainment, Sodexo, Paraxel, UBS, Capgemini and more are to speak at Business Travel Show Europe 2021, which takes place 30 September to 1 October in-person at ExCeL London with additional content available online.
This year's conference will bring thousands of buyers and suppliers together to discuss the most pressing topics facing the global travel industry, from strategising post-pandemic, to sustainability, safety and security, supplier negotiations, including changing and challenging your TMC, and how to use behavioural economics to improve compliance.
The three-day, high-quality conference programme is free to attend for Business Travel Show Europe attendees and includes the hosted buyer-only programme on Wednesday 29 September, followed by range of panel debates, buyer-only masterclasses, the Fundamentals (ideal for PAs, EAs and those looking for a travel management refresher course), and supplier sessions at the main event on 30 September and 1 October. Most sessions will take place in person, with supplementary content being made available to view on demand online.
The agenda can be viewed online now and highlights include:
Terra incognita – Mapping managed travel's future in a totally changed landscape
Tom Stone, European Travel Director, Sony Pictures Entertainment
Caroline Strachan, Managing Partner, Festive Road
Philip Stewart, Founding Director and Head of Intelligence, Tapis Intelligence photo
Tristan Smith, VP Commercial – SME, Egencia

Make your travel programme truly sustainable by 2030
Kerrie Henshaw-Cox, Associate Director, AstraZeneca
Karen Hutchings, Travel, Meetings & Events Leader, EY
Andrew Murphy, Director, Aviation, Transport & Environment
Rich Johnson, Senior Director, CWT Solutions Group
Covid, Brexit, tax and A1/Posted Workers Directive – Why mobility compliance is European travel managers' new challenge AND new opportunity
Stephen Swift, Travel Manager EMEA & APAC, Ford Motor Company
David Livitt, Global Practice Leader, Business Traveller & Remote Worker Solutions, Global Tax Network
Carsten Østberg, Managing Director – Europe, Newland Chase
Esther van der Aa, Global Travel Manager, Vanderlande Industries
Business travel managers as choice architects – Using behavioural economics to influence winning decisions
James Westgarth, Head of Procurement Performance and Systems, Lufthansa, and Doctoral Researcher, Sheffield Hallam University/Munich Business School bio/photo
Let's fix the way we pay TMCs
Jo Lloyd, Partner, Nina & Pinta
Clive Wratten, Chief Executive, The Business Travel Association
Simon Potter, Group Procurement & QHSSE Officer, Inchcape Shipping Services
Kyra Dieteren, Global Travel, Fleet & Supplier Management Manager, ekaterra
Sammit Khanndeparkar, Global Travel Manager, Springer Nature Group, is taking part in a panel session called 'Goodbye travel manager, hello business travel micro-services engineer?'
"I will share my experiences on how we managed travel during Covid-19, the digitalisation of travel, the way forward, duty of care, sustainability, C02 offsets, how to build a carbon neutral travel programme, and contactless payments for air and hotel," said Sammit. "I'm looking forward to attending Business Travel Show Europe and meeting face to face once more because it's a very good planned and managed event with an equally good supplier base."
David Meyer, Executive Director, Conference Content and Strategy, The BTN Group, said: "While it may feel like travel has been on hold since March 2020, for travel managers the opposite is true. Legislation, advice and regulations have been changing daily, and travel managers are having to work ten times as hard to keep up and keep travellers and stakeholders informed. Their roles have also changed – from managing travel and travellers, to one of repatriation, refunds and risk mitigation to name a few.
Jen Bankard, Senior Director of Content Solutions and Conferences, The BTN Group, added: "The Business Travel Show Europe conference covers all of these issues in depth, with many fellow buyers on panels and running masterclasses, making it the perfect place to get up to speed and share knowledge and best practice as job specs continue to change moving out of the pandemic and beyond."