Monday 3 December 2018
30% Of Buyers Increased Serviced Apartment Use In 2018
Almost one third of corporate travel buyers increased their use of serviced apartment suppliers in 2018, a huge leap from the 20 per cent recorded this time last year.
29 per cent of buyers booked more serviced apartments in 2018 compared to 2017. It was the only accommodation category to see an increase in use over the last 12 months. In contrast, just 9 per cent of buyers used more sharing economy suppliers this year compared to 18 per cent in 2017. The number of buyers who don't use serviced apartments dropped from 42 per cent to 32 per cent, whereas the number of buyers not using sharing economy providers rose from 38 per cent to 45 per cent and those not using five-star hotels also went up slightly from 28 to 31 per cent.
The survey of 134 corporate travel buyers was carried out by the Business Travel Show earlier this month in collaboration with Association of Serviced Apartment Providers (ASAP) ahead of the ASAP Convention on 5-6 December. The 25th Business Travel Show takes place on 20 and 21 February 2019 at Olympia London.
Q1. When compared to the last 12 months, how has your use of the following suppliers changed?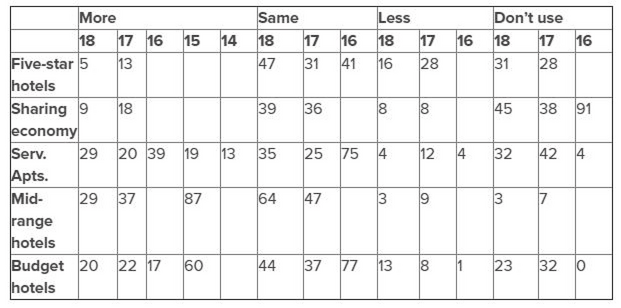 When asked to rate their reasons for booking serviced apartments out of five options, number one was value for money, followed by convenience, more space, flexibility and long-term suitability. This has changed slightly since last year, with space and flexibility flipping slots. A number of respondents also stated that the apartment's proximity to their meeting venue was also a key factor.
Q2. Why do you book serviced apartments?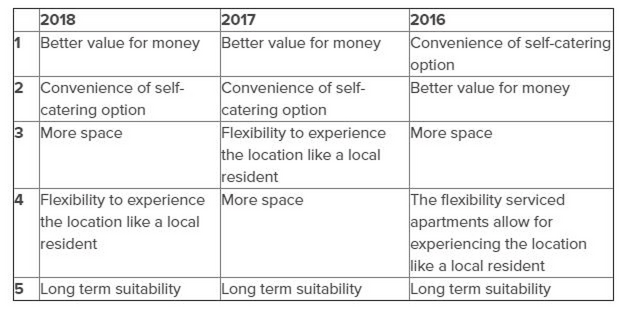 More buyers allocated a higher percentage of their budget towards service apartments (see below) over the last 12 months. In 2016, 90 per cent committed less than 10 per cent of their budget to serviced apartments. This dropped to 84 per last year and 77 per cent in 2018. In 2018, 23 per cent of buyers spent more than 10 per cent of their budget on serviced apartments, compared to 16 per cent the year before and 10 per cent in 2016. For the first time ever, buyers were registered as allocating between 50 and 100 per cent of their budget on serviced apartments, with 1 per cent claiming to spend their entire budget on apartments.
Q3. What percentage of your accommodation budget is spent on serviced apartments? (Answered only by those buyers who use them).

However, with one third of buyers not using any serviced accommodation suppliers, and 45 per cent now vetoing sharing economy providers, the poll shows there is still a way to go for alternative accommodation providers to be an automatic choice for travel buyers.
Business Travel Show event director David Chapple said: "These are pretty extraordinary statistics that prove the industry is making considerable headway in raising awareness of serviced apartments as valid and valuable alternative accommodation for business travellers. Not only are more buyers aware of service apartments as an option, they also appreciate the pros they offer to their travellers and are much more open to including them in their travel programmes.
"I think these results also reflect the ongoing pressure on buyers to cut cost and display improved ROI on travel spend as well as the desire from younger travellers to enjoy the flexibility provided by alternative accommodation providers."
The Association of Serviced Apartment Providers (ASAP) CEO, James Foice, added, "I am delighted to see a 29 per cent increase in corporate buyers booking serviced apartments this year, compared to 2017. The landscape is rapidly evolving for the serviced apartment sector and we're seeing a significant increase in supply year-on-year. We've even seen a decrease in buyers not using serviced apartments this year – from 42 to 32 per cent - which is fantastic!
"As with the results from 2017, we are seeing 'value for money' coming out as the top reason why corporates are using serviced apartments, closely followed by the convenience of a self-catering option. This year, in particular, we have found that more and more companies are booking two-bedroom or two-bathroom apartments, as colleagues will often share the apartment, making it a more cost-effective choice as well as giving employees working away from home some companionship. A two-bedroom option also provides privacy and collaboration space under one roof.
"Our ASAP Quality Accreditation Programme - under which operators are assessed by the Association's Accreditation Service, ISAAP, to ensure they fulfil all their duty of care, compliance and health and safety requirements - is also proving to be a very important benefit to corporates across the board."
The ASAP Pavilion returns to Business Travel Show in 2019, and accommodation providers from all sides of the market can be found on the show floor for buyers to talk to, including Melia, IHG, NH Hotels, Travelodge, Jury's Inn, Premier Inn plus Bridgestreet Accommodations, Brussels Business Flats, City Apartments, City ID Group, Fraser's Hospitality, Marlin Apartments, Native, Oakwood Worldwide, Premier Apartments, Roomspace, Roomzzz, StayCity and TAS Alliance.
The ASAP Convention takes place in London from 5-6 December.
Online visitor registration is now open for the Business Travel Show at http://www.businesstravelshow.com/register