Monday 26 June 2023
10 reasons to attend Business Travel Show Europe 2023 this week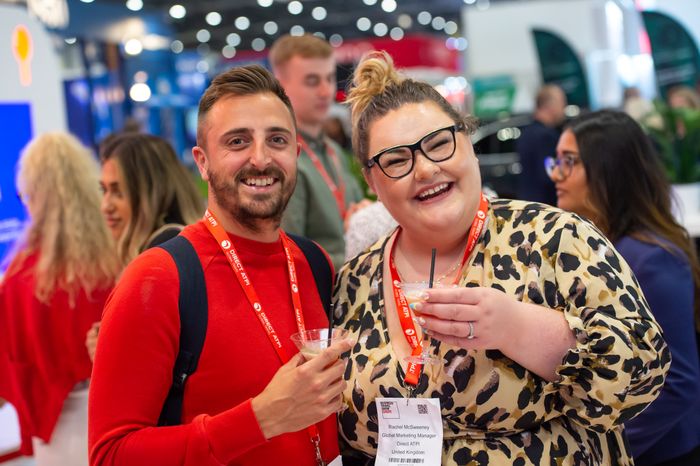 With more than 200 exhibitors lined up to showcase corporate travel products and services to buyers, managers and bookers, plus a packed programme of first-class learning and networking opportunities, Business Travel Show Europe is the must attend event for the corporate travel industry in Europe.
Here are just some of this year's many highlights with doors opening at ExCeL London from 28-29 June.
1. Over 200 suppliers in one place
From airlines and accommodation providers to car rental, credit cards, travel tech and TMCs, more than 200 corporate travel suppliers are exhibiting at the show this week – the perfect opportunity to do six months' worth of meetings in just two days.
2. Quality hosted buyers
Business Travel Show Europe's hosted buyer programme was launched over a decade ago and it continues to attract the highest calibre of business travel buyers with hundreds in attendance each year from world leading finance, technology, automotive, transport, pharmaceutical, retail, charitable organisations and more, including the likes of Nestle, Kodak, HSBC, IBM, LIDL, Kingfisher, Michelin, Network Rail, McLaren, Sky, Royal Mail Group, Microsoft, Pfizer and Sainsbury's.
Business Travel Show Europe's hosted buyers enjoy an exclusive pre-show conference plus hosted buyer-only masterclasses throughout both days of the show, providing invaluable opportunities for learning and knowledge sharing with peers. As well as full access to in-person content, they can also access virtual content via the Swapcard platform, have exclusive lounge access and are invited to attend a 5-star networking dinner.
3. A conference programme packed with practical takeaways
The 2023 conference programme is packed with industry visionaries, disruptors, and innovators who will share their industry insight, expertise and knowledge on the most pressing industry issues, including AI and personalisation, cost-cutting, duty of care, technology, globalisation, DEI and more.
See the full programme here.
4. Stellar speaker line-up
More than 125 speakers will take to the Business Travel Show Europe stages over the 2 (and a half) days, including industry veterans and commentators, buyers and managers, TMCs (Travel Management Companies), journalists, consultants and experts, plus 40 brand new voices providing inspiring insight. Speakers include Pat Batra, Executive Director Global Travel, Fleet and Events, Olympus Corporation of Japan; Stuart Birkin, General Manager Scotland, CTM (Corporate Travel Management); Cristina Chimenti, Head of Travel, Sky; Nathalie Buzuel, Indirect Procurement Country Manager France & Switzerland and EMEA Travel Manager, Parker Hannifin; Steve Clagg, Travel Technology Manager, Microsoft; Clive Cornelius, Head of T&E and Procurement, Visa Europe; Jamie Finnie, Head of Travel, NES Fircroft and Calum Hawley, Global Travel Manager, Endeavour Mining
5. The new Opening General Session
A new feature for 2023, everyone is invited to attend the show's first ever Opening General Session, which will take place in ExCel London's Platinum Suite Room 1 and mark the official start of Business Travel Show Europe, featuring keynote speaker and veteran broadcast journalist Jon Sopel, who will provide insight into developments in geopolitics and economics and will take questions from the audience.
Jon will be followed by EY Meetings & Events Leader Karen Hutchings who will interview new American Express Global Business Travel President Drew Crawley about leading edge industry issues including changes in distribution, staffing issues, digitalisation and innovation.
6. Innovation Faceoff
Innovation always tops the must-have list for Business Travel Show Europe attendees, so it would be remiss of us to not mention this year's Innovation Faceoff, which features the latest developments in business travel in a gripping competition that puts the most forward-thinking suppliers in front of a panel of expert judges and you, the audience.
The 2023 finalists are 3Sixty, Tripkicks, QuadLabs, Travlr ID, Data Angel, EU Sustainable Travel Approval Tool and HQ who will fight it out to take home the Business Travel Innovator Award. The presentations take place live on the floor at 10:40 and 14:20 on Wednesday 28th June followed by the live final at 13:40 on Thursday 29th.
7. Networking opportunities for all
With hundreds of corporate travel professionals under one roof, Business Travel Show Europe is not just the perfect opportunity for you to meet with innovative suppliers, it's also the perfect place to network with fellow travel buyers. Networking events include the pre-show Hosted Buyer Conference and day one dinner, on-stand drinks, networking parties, competitions, entertainment and much more.
Business Travel Show Europe will be providing a wellbeing hub and quiet room for all attendees who experience sensory overload. Visitors can borrow an EventWell Sensory Pack to regulate and calm their senses. It includes noise reduction ear plugs or headset, a fidget toy and stress relieving roller ball. Guarantee a pack by emailing support@eventwell.org in advance or visit on the day.
9. The Business Travel Technology Zone
For visitors that cover both business and retail travel, the Business Travel Technology Zone is the ideal place to meet and learn more about the latest business travel technology solutions and tools.
10. Register once for all three shows!
With just days to go before Business Travel Show Europe opens its doors, register now and gain access to sister events The Meetings Show 2023 and TravelTech Show.