Tuesday 30 May 2023
Tangerine Travel joins BCD Travel Affiliate program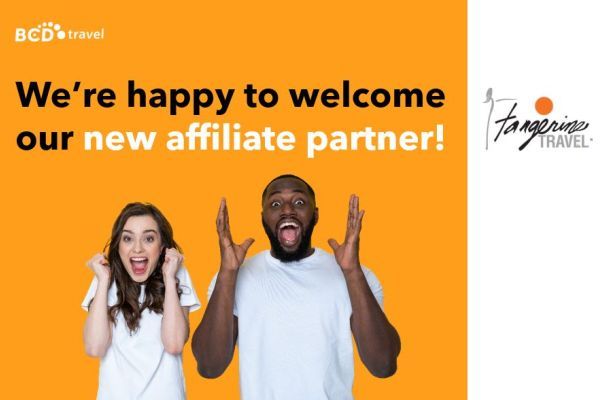 As part of BCD Travel's ongoing growth strategy, Tangerine Travel has joined the BCD Travel Affiliate program, a network of leading regional travel companies that tap into BCD's global reach and vast supplier network. Founded in Bothell, Washington, nearly 35 years ago, Tangerine Travel specializes in bringing a personalized touch to corporate, personal, luxury and meeting and events travel.
"We're beyond excited to welcome a highly respected agency like Tangerine Travel into the BCD family," said Kathy Bedell, Americas senior vice president and leader of BCD's Affiliate program. "Tangerine is an entrepreneurial, successful, family-owned company that fits perfectly with our company values and culture. We look forward to supporting Angie and her team in their next phase of growth."

"It's an honor to become a BCD Travel affiliate," said Angie Lepley, founder and CEO of Tangerine Travel. "The program allows us to offer the personal approach our clients value, while benefitting from the global presence, advanced technology and buying power of the world's most admired TMC. It helps us strengthen the relationship with our clients and tailor travel programs that cater to their expanding needs."

The BCD Travel Affiliate program consists of a network of carefully selected agencies whose teams enjoy access to BCD's executives and subject-matter experts, in addition to the facilitated exchange of ideas with one another. Founded in 1988, the BCD Affiliate program boast a successful track record of providing partner agencies a comprehensive range of programs, products and services to help affiliate members increase productivity, grow market share, reduce costs and build revenue. For affiliate members, BCD's mega-agency status means more buying power, higher commissions and deeper discounts.

For more information on the BCD Affiliate program, visit https://www.bcdtravel.com/get-to-know-us/affiliate-program/.

-END-

About Tangerine Travel
Tangerine Travel has created a vibrant, exciting, hard-working culture. Our team is composed of the most incredible travel consultants that will ensure a seamless travel experience. Our emotional investment in travel gives Tangerine the edge when it comes to ensuring a stress-free, everything-you-could-have-possibly-wanted travel experience. All of our travel consultants — Personal, Corporate, Luxury and Meetings and Events — are eager and excited to get to know you and help coordinate your travel to any destination. For more information, visit www.tangerinetravel.com.

About BCD Travel
BCD Travel helps companies make the most of what they spend on travel. We give travelers innovative tools that keep them safe and productive and help them make good choices on the road. We partner with travel and procurement leaders to simplify the complexities of business travel, drive savings and satisfaction, and move whole companies toward their goals. In short, we help our clients travel smart and achieve more. We make this happen in 106 countries with a global client retention rate of 97%, the highest in the industry. For more information, visit www.bcdtravel.com.

About BCD Group
BCD Group is a market leader in the travel industry. The privately owned company was founded in 1975 by John Fentener van Vlissingen and consists of BCD Travel (global corporate travel management and its subsidiary BCD Meetings & Events, global meetings and events agency) and Park 'N Fly (off-airport parking). For more information, visit www.bcdgroup.com.