Monday 15 May 2023
New Mobilleo MaaS app to be previewed at Business Travel Show Europe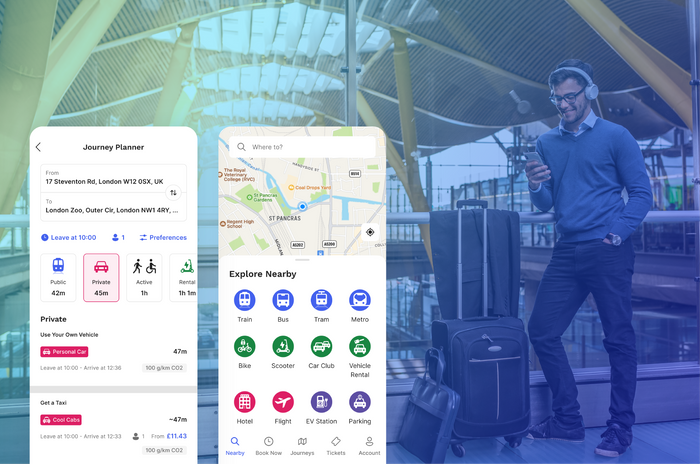 Leading multi-platform mobility technology company FOD Mobility Group will be showcasing its all-new Mobilleo travel app on stand J62 at Business Travel Show Europe on 28 – 29 June at ExCeL London.
The next generation Mobility-as-a-Service (MaaS) platform brings together all forms of travel into a single smartphone and desktop solution. Employees can plan, book and pay for all their business and personal journeys as one single door-to-door itinerary in seconds, saving them time and money.
Mobilleo integrates services from thousands of leading travel and transport providers worldwide for flights, hotels, trains, taxis, car hire, car clubs, buses, bike hire, airport lounges and more. It offers easier access to integrated travel and service information, more reliable journey planning, in-app ticketing, and a hassle-free payment system for business travellers.
The platform can be configured to suit the different policies and mobility requirements of any organisation, which includes saving costs by consolidating travel booking and expenses, implementing mobility budget schemes, enhancing employee benefit programmes, alternatives to company cars, cash allowance and grey fleet usage, improving CSR policies, and driving total cost of mobility intelligence across the entire business.
Mobilleo's desktop application gives travel bookers full control over booking, payment and management of travel throughout their organisation along with a detailed management reporting suite. The smartphone app can be deployed to individual employees to manage their own business travel in conjunction with a set monthly budget limit to control expenditure.
In addition to the technology, Mobilleo provides a dedicated service delivery team offering customer support to assist travellers with their bookings, and an experienced account manager to manage the relationship from implementation and onboarding, through to training and account management.
Justin Whitston, Founder and CEO of FOD Mobility Group said: "We're looking forward to previewing our enhanced Mobilleo MaaS platform at the show, which has been in development for the last 12 months. It is the ideal solution for travel managers that are looking for new and innovative ways to simplify their business travel operations, take control of their expenditure, and enhance their employee benefits offering."
Visit the Mobilleo team on Stand J62 at Business Travel Show Europe to arrange a demo, pick up a Mobilleo travel mug and enter a free prize draw to win a luxury weekend away for two. The show takes place 28th to 29th June at ExCeL London. Visitor registration is open now at www.businesstravelshoweurope.com.
For more information about Mobilleo visit www.mobilleo.com.