Thursday 4 May 2023
ITA Airways: Airbus A320neo with new interiors designed by Walter De Silva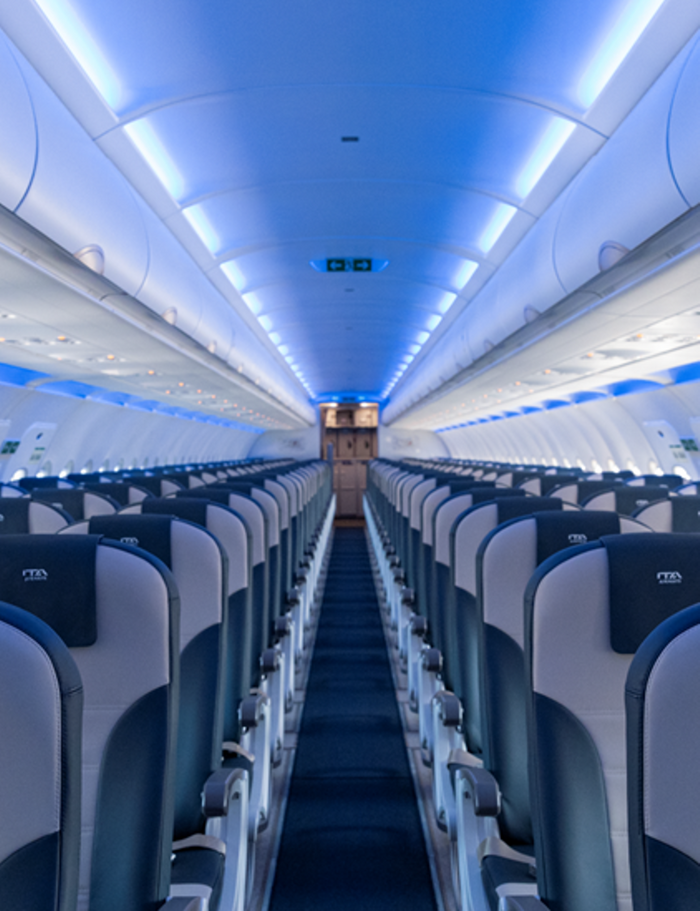 "ITA Airways celebrates an important achievement in its growth: today we're showcasing the new interiors of our Airbus A320neo of the latest generation, the ITA Airways uniforms, now worn by all our cabin crew, and the new Hangar Lounge. – said Fabio Lazzerini, CEO and General Director of ITA Airways – We are as excited as we were on the first day, a little over a year ago, when we watched the takeoff of our first flight, with the clear ambition to deserve the role of Italian flagship airline, to be ambassadors of Made in Italy in the world. The mark of Italian style is on the entire travel experience with ITA Airways, from the moment our customers enter the airport until they reach their destination.
In his design of the interior for ITA Airways, Walter De Silva was inspired by the pleasant sensations of comfort, elegance and simplicity, but above all by materials and colors. As a whole, it is means to enhance the quality of life on board. For this reason, the materials and colors chosen are absolutely natural, in full respect of strict aeronautical standards, to guarantee maximum wellbeing on board in every situation.
The seats on the Airbus are equipped with USB A + C outlets for electrical recharging and, for the first time, the medium-range ITA Airways fleet will offer a service of connectivity for payment and free IFE wireless. The user experience will always be smooth and simple, with 90 hours of video programming and 12 hours of audio, updated bimonthly.
Technological and efficient, the new ITA Airways Airbus A320neo benefits from a 20% reduction in fuel consumption and CO2 emissions per passenger compared to previous generation aircraft.