Tuesday 28 March 2023
hubli launches Simple Meetings Framework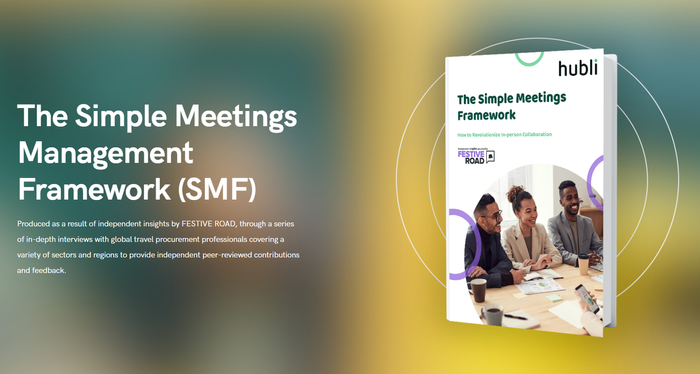 The future of work, with reduced offices and distributed teams has created a surge in smaller, simple meetings designed to bring people together to collaborate, build relationships and sell in-person.
Simple meetings are increasingly becoming a dominant motivation to travel for work. This is underlined by The Global Business Travel Association (GBTA) 2023 Forecast which shows that 48% of business travel spend is associated with sales/account management meetings and internal meetings with colleagues.
However, global enterprises are struggling to cater for this rapidly emerging segment. Unlike other areas of business travel, simple meetings are predominantly unmanaged with most organisations relying on inefficient manual booking services leading to high costs, duty of care risks and lack of ESG visibility.
hubli, the market leader in self-serve simple meetings reservations has created a new peer-reviewed Simple Meetings Framework (SMF) to help global travel procurement managers to bring structure, efficiency and savings in this space. The framework was produced as a result of independent insights by global travel and meetings management consultancy FESTIVE ROAD, through a series of in-depth interviews with global travel procurement professionals covering a variety of sectors and regions to provide independent peer-reviewed contributions and feedback.
"The area of Simple Meetings management is the last segment in Business travel to be properly digitalised and defined. We felt it was important to create the SMF to share best practice from industry leaders to help more organisations deliver sustainable, cost-effective in-person collaboration at scale" Commented Ciaran Delaney, Founder hubli.
The SMF provides a step-by-step guide to develop a new digital first approach to simple meetings combining hubli data and independent industry insights. The framework will continue to evolve as data and learnings are shared across the industry for this rapidly emerging segment.
About hubli 
hubli is reinventing how teams meet by providing organizations with a global self-serve booking platform with inbuilt policy, savings and ESG controls. hubli replaces slow, high-cost manual booking with a state of the art digital first solution driving over 20% in savings.  
https://www.hubli.com