Hubli launches new sustainability product, hubli green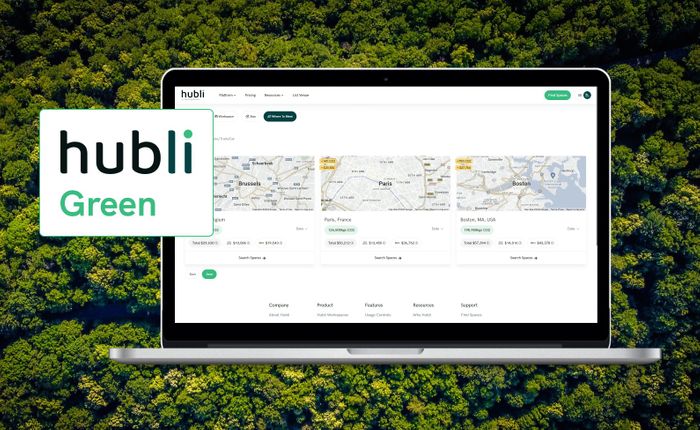 Hubli the leading online booking tool for meetings, off-sites and group stays has launched hubli green, a dedicated sustainability product for business travel and meetings. The new release will enable meeting and events planners choose venue locations based on the lowest CO2 emissions, book sustainable spaces and remove high waste items from meetings.
The new hubli green product is embedded in Hubli's existing search engine, putting sustainability at the centre of the booking journey. Users will have access to a "Where to meet?" console allowing them to calculate the lowest carbon location for their meeting including air, car and rail travel options. "Where to meet?" not only ranks the carbon consumption per location, it also provides detailed pricing data per city, allowing users to decide where to meet based on both CO2 emissions and price.
With a global inventory of 185,000 spaces including hotels, business centres and unique venues, hubli green will also allow venues to upload their sustainability accreditation to the platform, giving users the ability to quickly identify and book sustainable venues.
"Meetings represent a huge carbon savings opportunity, we designed Hubli Green to make this happen. If sustainability solutions sit outside your booking tools, they will never be used. Hubli Green is now part of our booking journey, embedded in every transaction giving all employees the opportunity to reduce emissions for their organisation." commented Ciaran Delaney, Founder CEO hubli
Hubli green will be available at no extra cost to all hubli enterprise clients. This will now provide a very cost-effective way for organisations to drive carbon emission savings for meetings, off-sites and group hotel stays.