Hubli and Green Key announce new sustainability partnership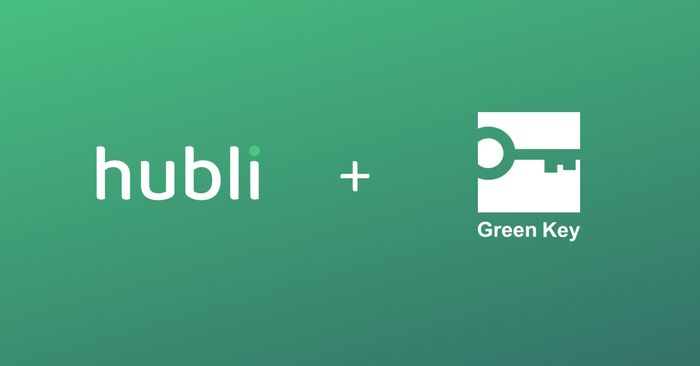 Hubli, the global leader in self-serve simple meetings and Green Key, the leading standard for environmental responsibility and sustainable venues, announced a new strategic partnership.
The deal will allow Green Key accredited venues, across Hubli's significant global network, to display their green credentials to Hubli's roster of enterprise corporate clients.
This new partnership empowers a company's employees to make sustainable decisions on where they meet through identifying compliant venues via the search experience. The collaboration reinforces Hubli's commitment to building ESG solutions and follows last year's launch of "Hubli Green" a dedicated ESG module including location carbon calculator and the ability for venues to register diversity of ownership.
Commenting on the launch Ciaran Delaney, founder of Hubli said "It's our goal to allow global organizations to facilitate cost-effective, sustainable in-person collaboration at scale. We're very excited to partner with such a well-known, trusted sustainability partner and continue to expand our ESG solutions"
"We feel Hubli is the great business travel and meetings partner channel allowing our establishments to showcase their certifications maintained through rigorous documentation and frequent audits." commented Chiara Cottone at Green Key.
The partnership will go live on the 28th February with the first wave of Green Key accredited venues visible across the Hubli platform from the start of March. "This integration with Green Key will allow us to rapidly onboard and automatically maintain thousands of sustainable venues within the Hubli platform, solidifying our goal to be a driver of positive environmental change" Commented David Hendrick, Hubli CTO.
About:
Hubli
hubli is reinventing how teams meet by providing global organizations with a global self-serve booking platform with inbuilt policy, savings and ESG controls. hubli replaces slow and costly manual booking servicing with a state of the art digital first solution driving over 20% in savings.
https://www.hubli.com
Green key
Green Key is a voluntary eco-certification programme, and the leading standard for excellence in the field of environmental responsibility and sustainable operation within the tourism industry. The high sustainability standards expected of Green Key certified establishments are maintained through a strict set of criteria, rigorous documentation, frequent on-site audits, and third-party verification. Green Key is eligible for hotels, hostels, small accommodations, campsites, holiday parks, conference centres, restaurants, and attractions. The Green Key programme is managed by the Foundation for Environmental Education (FEE) and its national member organisations.
https://www.greenkey.global/
For more information:
Marketing@hubli.com