Thursday 1 June 2023
CTM expands Climate+ to create first end-to-end business travel sustainability platform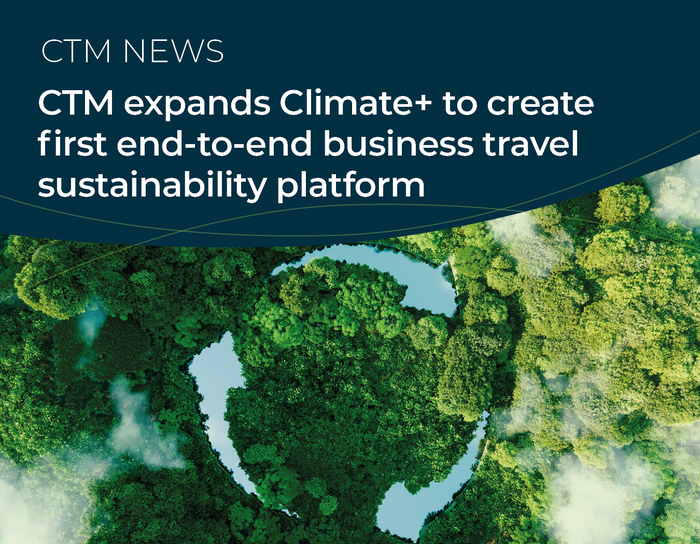 1 June 2023: Ahead of exhibiting at Business Travel Show Europe (28-29 June, ExCeL, London), award-winning global travel management company CTM has expanded its Climate+ platform
The additional features mean Climate+ is the first connected platform to support every step of a corporate's business travel sustainability journey, from forecasting and setting carbon budgets through to in-app booking nudges and total emission analytics. It is available for the exclusive use of CTM clients.
Climate+ now incorporates the following innovations:
CO2 Calculations for flights, hotels, trains and car in Lightning OBT & App, including granular emissions in search comparisons from RDC Aviation based on aircraft, engine model, seat configuration, fuel burn, SAF investment and more.

CO2 Forecasting. A new calculator that lets clients input an estimate or flight, hotel, train and car hire activity by location, route and class to create a carbon forecast to share with stakeholders to build realistic, actionable carbon budgets.

CO2 Budgets in Lightning OBT, Mobile App, and CTM Portal – letting travel managers assign budgets by department, group & individual by year, quarter or month.

Green Choice fare labels in the Lightning OBT & Mobile App, highlighting greener travel options at the point of search and intelligently nudge them to make select more sustainable choices when booking, including electric and hybrid car hire options.

Flight vs Train CO2 Comparisons let travellers switch to lower emission travel modes in one click with automatic dual searches on relevant routes in the Lightning OBT and App.

Climate+ Reporting & Analytics give total visibility on a programme's carbon footprint through at-a-glance dashboards, traveller averages, plus impact by route, travel type, or cabin class to help companies mitigate future emissions.

CO2 Transfers between departments and travellers support companies in better management of team-based carbon allowances.

CO2 Approvals - A Carbon Approver can be assigned should carbon budgets be reached to determine if a trip is business critical.

Carbon offsetting. CTM clients can offset their total travel programme's carbon emissions by supporting a range of environmental sustainability initiatives chosen based on their company values and global footprint.
CTM Climate+ - the power of one sustainable platform
CTM's EMEA CTO, Brian Sheerin: "We frequently hear travel managers saying they are under extreme pressure to demonstrate progress in making their travel programmes more sustainable, but they don't have the correct toolset in their travel tech stack to make a meaningful impact.
"Our internally developed online booking tool (OBT) Lightning already goes further than others on the market in terms of sustainability functionality, including displaying granular CO2 calculations per flight result based on aircraft age, seat configuration, engine model, fuel burn and other factors like airline sustainable aviation fuel investment to give customers the most accurate guidance in choosing more sustainable flights.
"At CTM, we're in a unique position thanks to our agile, end-to-end technology approach and Climate+ really leverages that to the benefit of travel managers, their programme, their people, and the planet.
"As a connected suite of tools, Climate+ shares data seamlessly. This makes it easy to get started and removes the challenge many buyers face, using a fragmented approach with a standalone OBT with one calculation method, emissions reporting by their agency in another, forecasting via consultancies using bespoke approaches and offsetting through yet another partner they must manage.
"Our ethos is simple – the easier we make it for clients to drive change, the bigger sustainable impact they can make – and that's Climate+ in a nutshell."
About Corporate Travel Management (CTM)
Corporate Travel Management (CTM) is an award-winning global provider of innovative and cost-effective travel solutions spanning corporate, events, leisure, loyalty and wholesale travel. The company's proven business strategy is underpinned by personalised service excellence supported by market-leading technology solutions which deliver a return on investment to our customers. Visit: http://www.travelctm.co.uk
CTM is exhibiting at Business Travel Show Europe on stand J20.
For media information, please contact:
Charlie Le Rougetel at BIGTOP
charlie@bigtop-pr.co.uk