Monday 19 June 2023
Corporate Traveller's General Manager to Present the Ten Quick Wins To Get You Started In Travel Management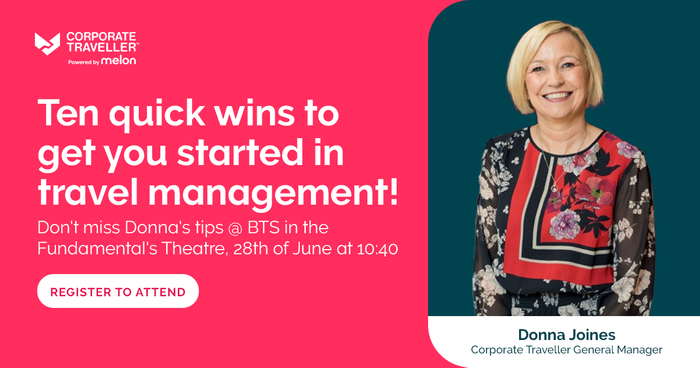 Corporate Traveller's General Manager Takes the Business Travel Show Stage to Present the Ten Quick Wins To Get You Started In Travel Management
The session will take place on Wednesday 28 June at 10:40 on the Show Floor Theatre 2
19, June 2023 – This year's Business Travel Show Europe visitors will have the pleasure of discovering the fundamentals of getting their travel management programmes off the ground from industry expert and General Manager of SME specialist TMC, Corporate Traveller UK, Donna Joines.
Attendees will be able to find the session on the Show Floor Theatre 2 on the first day of the show from 10:40 to 11:20. The audience will hear a quick-start guide to the key facets of managed travel: from safety, policy, performance, risk, and more, and discover what you can do to ensure your programme is in tip-top condition.
Joines will be joined by special guest and Corporate Traveller UK client, Amanda Mortensen from BLAST. The pair will take viewers on a guided tour of starting a travel programme and working with a TMC. A few of the quick wins include, choosing a travel partner you have confidence in, getting your hands on great tech and remembering that you're not alone when you have a TMC.
When speaking about the upcoming session, Joines said; "I am thrilled to be making my stage debut at the Business Travel Show Europe 2023 on behalf of Corporate Traveller UK. It's a great opportunity to share our insights and the best practices from travel management companies with those who are considering working with one to enhance their travel programmes.
"It is especially exciting to be joined on stage by Amanda Mortensen, who will be using her real-life experiences working with Corporate Traveller to add a practical element to the session."
Visit Corporate Traveller's stand, at number H30, to talk to an expert consultant about your travel programme or you can book a meeting in advance by visiting www.corptraveller.com/en-gb/Business-Travel-Show
# # #
Media Contact
Julia Newbound, PR & Communications Manager for Corporate Traveller UK
Julia.newbound@flightcentre.co.uk +44 7787 270 749
About Corporate Traveller
Corporate Traveller is the only global TMC catering exclusively to start-ups and mid-market businesses. Established in 1993, the company is present in six countries where it provides expert tailored advice, dedicated travel managers, and innovative, advanced booking technology to more than 16,000 customers worldwide in a typical year. Being part of industry powerhouse the Flight Centre Travel Group, access to a competitively priced, truly global inventory alongside added-value benefits and exclusive deals comes as standard. Melon, Corporate Traveller's proprietary, on-the-go travel management platform features intuitive navigation and a seamless end-to-end online experience to help customers easily book, manage, and measure the performance of their business travel programmes. For more information visit www.corptraveller.com