Thursday 30 September 2021
Corporate Travel Management expands technology with customisable duty of care and approval flows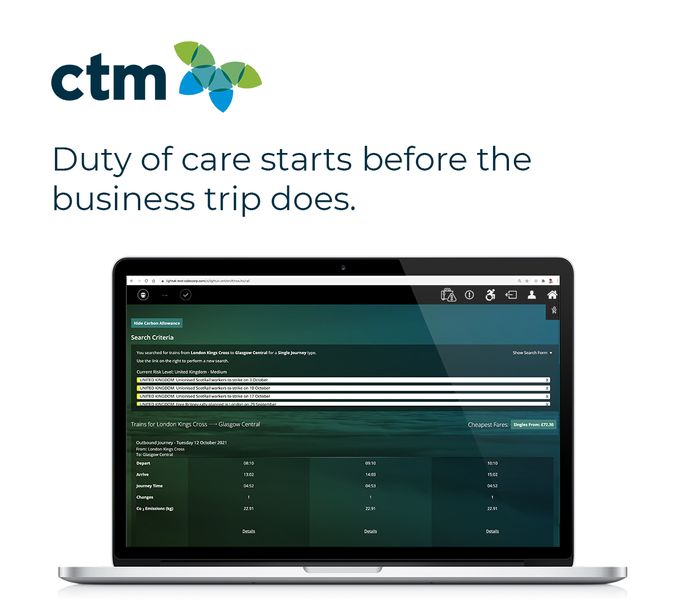 CTM, a leading global provider of travel management services, is introducing new risk and health alert notifications into its award-winning proprietary online booking tool (OBT), Lightning, within the trip search workflow. Travel bookers and business travellers can now make even more informed travel decisions at the point of sale relating to the risks of travelling to a city or country they are booking travel for. CTM's Lightning OBT was recently named 'Best Corporate Booking Platform' at the Business Travel Awards Europe.
CTM is also upgrading existing duty of care tools for travel, risk and HR managers with a new 'safety check-in' feature. Duty of care admins can send an alert request notification to any traveller or group of travellers in a specific location that requires them to 'check in' to verify if they are safe or in danger.
Using the CTM Portal, the safety alerts can be sent to all travellers scheduled to travel to or currently located in a country of the user's choosing. All responses are logged for the travel manager to review, and reminders to all or select travellers can be sent manually or scheduled at regular intervals.
In another boost to safeguarding the wellbeing of business travellers, Lightning will provide a 'visual nudge' to bookers when travellers are taking more than 5 hours of train travel over peak travel times on return trips within the same day. CTM data shows that often an overnight stay and later trains are not only cheaper but better for the employee's performance and wellbeing.
CTM's EMEA CTO, Brian Sheerin said the new features were developed in direct response to customer feedback and CTM's data analysis. "Now more than ever, duty of care begins before a trip has been booked and doesn't end until an employee is safely home. We're providing the tools to manage risk at both the point of sale and at management level for travel, risk and HR professionals so their employees are safer, more informed and better connected with what's happening around the world."
CTM's pre-trip approval tool, CTM Approve, has been significantly expanded to offer even greater customisation, reflecting the varied and changing needs of CTM's clients. Trips can be queued to an approval system based on the price, risk of the destination, carbon cost, and many more parameters.
An infinite number of trip approvers can be incorporated into the approval workflow, with configurable rules and variables to suit any business's specific needs.
CTM will be displaying the advancements alongside recent sustainability innovations at Business Travel Show Europe on the 30th September and 1st October on stand BTS150 at the ExCel Centre, London.