Tuesday 9 May 2023
CONVENE ANNOUNCES NEW LONDON LOCATION IN SANCROFT, ST. PAUL'S TO SUPPORT GROWING DEMAND FOR OUTSOURCED MEETINGS & EVENTS SPACE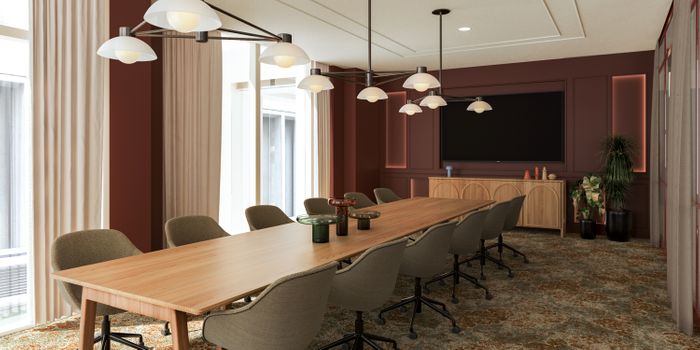 London (May 9, 2023) - Convene, a global hospitality company that designs and manages premium meeting, event, and flexible office spaces, today announced it would open a new 45,000-square-foot Meetings & Events venue in Sancroft, St. Paul's, a Class-A redevelopment in Paternoster Square by Greycoat and Mitsui Fudosan.
The addition will support London demand for outsourced meeting and event space and comes on the heels of Convene acquiring etc.venues, which substantially grew its footprint across the UK. Based on existing client needs, the new location will feature a 900-person plenary room, the largest space within the Convene global portfolio as well as the largest single above-ground room in the City of London. Further, at Sancroft, St. Paul's, through a management agreement, Convene will design and operate the building's tenant lounge and amenities.
More on Convene Sancroft, St. Paul's:
5,000 sq ft on the ground floor and the entire 40,000 sq ft floorplate on level one.

Seven unique meeting spaces, including one 900-person room.

Total capacity of 1,200 guests.

Expected to open for business in Q1 2024.

"In London alone, Convene has witnessed a 90% increase in demand for its Meetings & Events product year-over-year. There is a particularly strong appetite in the City of London and, with our new location at Sancroft, St. Paul's, we look forward to serving the meeting and event needs of nearby businesses," said Elliott Sparsis, head of corporate development and real estate, Europe at Convene. "At the same time, we are seeing a number of our existing clients' events growing in attendance and so we're excited to have a new location within our portfolio that offers the size and scale to support their evolving needs."

Convene is a single-solution meetings provider that offers in-house culinary, award-winning design, and AV and production services to deliver a turnkey experience for in-person and hybrid events. Its thoughtfully-designed meeting spaces can be custom-configured to accommodate various event types - from large conferences with main stage sessions and breakout rooms, trade shows and exhibitions, corporate social events, and more.

Since its founding in 2009, Convene has served the meetings and events needs of more than 4,000 companies around the world. With this addition, Convene now has a network of 39 premium meetings, events, and flexible office locations across nine cities making it the largest single provider of premium meeting and event venues in the U.S. and UK.
About Convene:
Convene is a premium hospitality company that designs and operates meeting, event, flexible office, and membership spaces. In 2023, the company acquired etc.venues, an established leader in urban day conferencing, growing its global network to 39 locations across nine cities in the U.S. and UK. Convene thoughtfully combines beautiful yet intuitive design, fully-integrated technology services, and a warm and welcoming environment to create a turnkey solution for extraordinary meeting and work experiences. Founded in 2009 with the goal of bringing hospitality and lifestyle into traditional commercial real estate assets, Convene partners with the industry's top landlords to deliver increased value to their assets and premium experiences to their tenants. The company counts Ares and RXR Realty among its investors, and has been named one of America's 100 Most Promising Companies by Forbes and a Best Workplace by Inc. magazine, Fortune magazine, and Built In. Learn more at https://convene.com/