Where will citizenM land this year?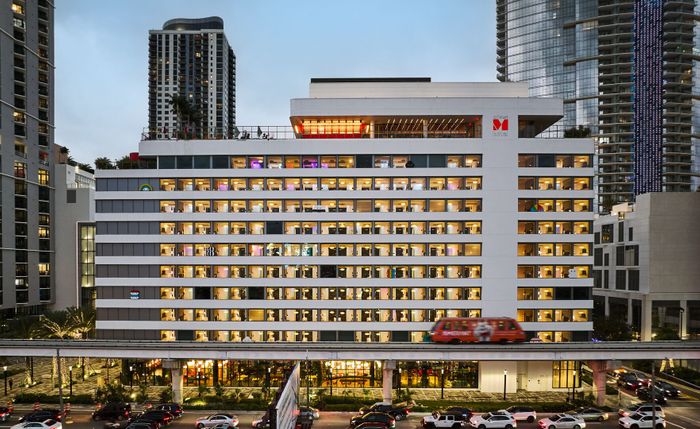 We're excited to announce the openings of our new hotels in 2023, spanning from western Europe to new territory within the US. Read on below for more information about these exciting new plans and what you can expect from our brand-new hotels.
🇺🇸 citizenM Miami World Center Q1 2023
Our second hotel in Miami opened at the World Center, following the opening of citizenM Miami Brickell last year. Surrounded by a diverse mix of retail, hospitality and entertainment spaces, citizenM Miami World Center is centrally placed within the business and financial hub of the city. The building features a series of sculptures placed across the facade created by FriendsWithYou, the Los Angeles-based art collaboration. The 351-room hotel also features a large rooftop pool and bar, serving cocktails with a view from the 11th floor.
🇫🇷 citizenM Paris Opera Q1 2023
We introduced our fifth hotel in Paris, citizenM Paris Opera. The boutique-sized hotel, located at Rue du Croissant, is a few minutes walk from the famous Opera. With the help of our long-term collaborator, Concrete, citizenM Paris Opera gives residents and guests spaces to work, relax and socialize. True to our commitment to art, the hotel features collaborations with local artists including commissioned work from Montmartre-based Amélie Bertrand.
🇺🇸 citizenM Austin Downtown Q3 2023
We will add to our growing US portfolio with the opening of our very first hotel in Austin. Developed in partnership with Turnbridge Equities, the 17-story tower will house a 344-room hotel featuring citizenM's signature interior design by Concrete. The hotel's interiors will draw inspiration from the local community, filled with an eclectic mix of contemporary art and objects by local artists. citizenM Austin Downtown will also feature a rooftop pool and bar area, with design by commissioned artist PONI (Hilda Palafox). Austin has been on citizenM's radar for years as an exciting cultural center and influential tech and business hub, marking our commitment to be present in markets where our customers are.