Thursday 27 April 2023
Agiito surpasses £10,000 charity fundraising target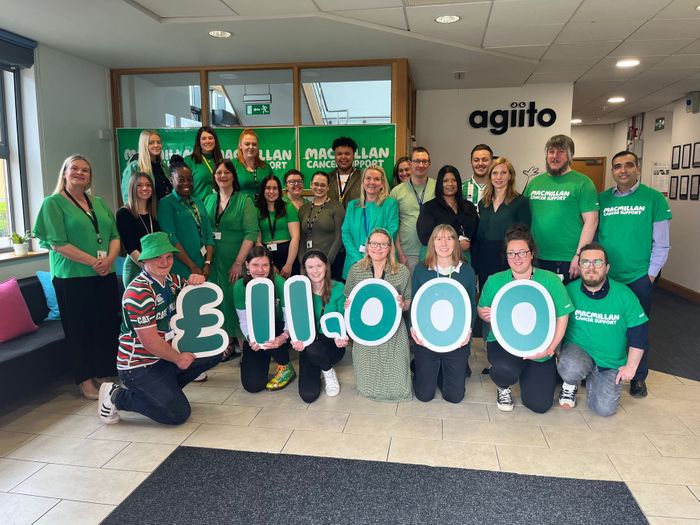 Agiito are proud to have raised £11,000 for Macmillan Cancer Support over a year's worth of fundraising activities.
In April 2022, Agiito kicked-off their first charity partnership with a packed agenda, where colleagues 'braved the shave', held bake sales and sweep stakes, and took part in gruelling Tough Mudder and marathon challenges.
Later in the summer, a 'Couch to 5k running club' was established, where participants donate their membership fees while also improving their fitness, and an on-site professional car valeting was also set-up, so employees can get their cars cleaned while at work, with the money going towards the pot too.
In July, Agiito held its first-ever Auction of Promises, where employees showcased their talents to auction off handmade jewellery and illustrations, to home-grown plants, professional coaching and personal training sessions, helping them to reach the halfway milestone.
In March, the company organised its inaugural Agiito charity fashion show – which they hope will be the first of many - before taking on a 15-mile hike in the Peak District to take them £500 over the £10,000 target.
The fundraising accumulated into a 2-day event at both Stockport and Derby office locations, with bake sales, charity car washes and another 'Brave the Shave' - raising an extra £500.
"Working with Agiito really has been an absolute pleasure, from start to finish and I am so sad that the relationship is coming to an end. I have loved going to some of their events, sending videos to spur them on, and receiving pictures of what they have been up to.
The £11,000 they have raised so far could have funded a Macmillan nurse for 333 hours, or provided 31 people with Macmillan grants that can be used to help ease some of the additional financial pressures, or finally meant that we could have answered our support line to 647 people. I cannot thank Team Agiito you enough, you are amazing and have made such a difference to be living with and affected by cancer!!" Hannah Lumb-Smith, Relationship Fundraising Manager for Macmillan Cancer Support.
Kirsty Given, Director of Corporate Responsibility and Sustainability, at Agiito said: "The last year has showcased how ingenious and creative our people can be with new, fun ways to generate funds – from charity auctions to fashion shows and running clubs. Everyone has got involved and has push a lot of people out of their comfort zone to take on fitness challenges and learn how to set-up an auction site or prepare a catwalk.
This is the first time we have attempted a charity partnership and an ambitious £10,000 target. So, to not only meet it, but beat it by £1000, is overwhelming and inspires us to keep going with our new charity partner in May."