Tuesday 16 May 2023
Agiito shortlisted as one of best workplaces in travel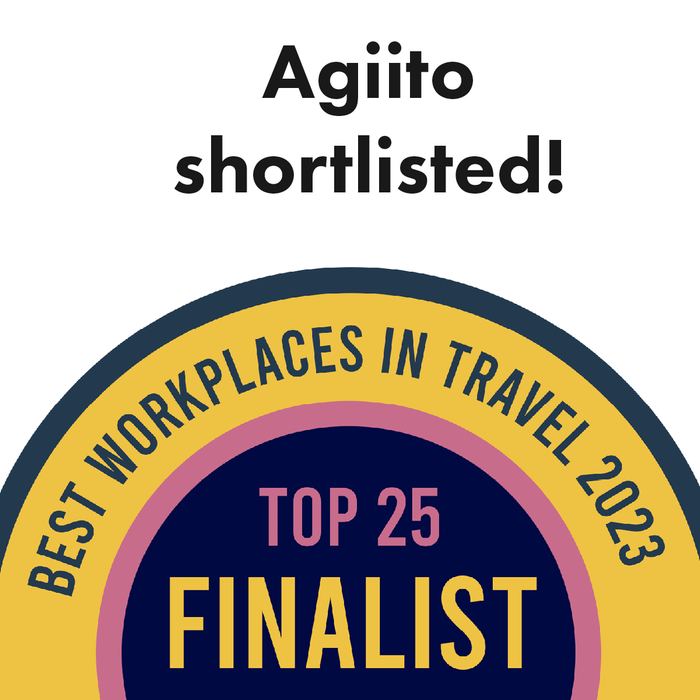 Agiito have been shortlisted as one of the Best Workplaces in Travel 2023 - Large Company Award category.
Agiito have announced that they have been shortlisted as one of the Best Workplaces in Travel 2023 - Large Company Award category, purely based on our employee feedback.
Best Workplaces in Travel was launched in January 2022 to recognise travel companies who support and develop their people in fast-paced and challenging industry.
The awards identify brilliant businesses by asking the people that really know what it's like to work at an organisation, their employees. They're asked what really matters to them about their workplace, employers are then rated on how well they deliver against this.
Katie Blount, Director of Experience at Agiito said of the news: "We're delighted to have made the shortlist for Best Workplaces in Travel 2023. We work hard to create a fun, inclusive and people-centric working environment that focuses on employee mental health and wellbeing.
"By listening to what matters to our people, we introduce initiatives that improve their workplace experience, like redesigning our internal communications strategy, introducing virtual coffee mornings, and giving colleagues an extra day's annual leave on their birthdays.
"While we've made big landmark changes over the years, we're firm believers in the regular, incremental improvements too. It's often these smaller things that make the biggest difference to the experience our people have, and if we can fix it, we will.
"We're committed to nurturing and valuing talent in travel. Our industry-leading service length, eNPS scores and the fact that our people have taken the time to share their experiences to achieve this award shortlisting tells us that we're heading in the right direction.
"I want to say a huge thank you to our people. They care, want to see us succeed and make Agiito a great place to work."
Agiito will compete against 25 other travel industry organisations in the Large Company category. The winners will be announced at the Best Workplaces in Travel sparkling award reception in London on 14 June.