Tuesday 11 April 2023
ALL - Accor Live Limitless announced as an Official Supporter of Rugby World Cup France 2023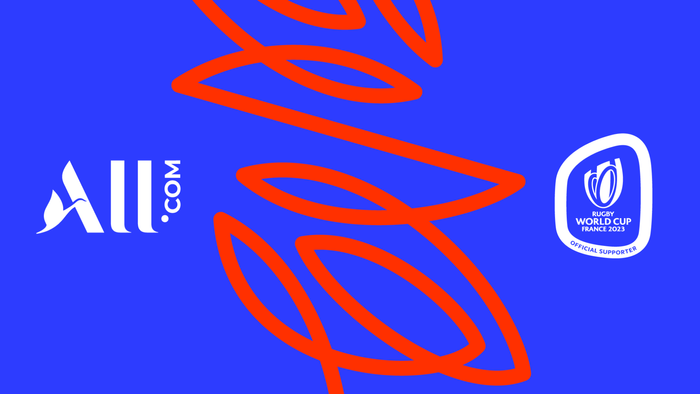 ALL – Accor Live Limitless, Accor's booking platform and loyalty program, today announces its Official Support of Rugby World Cup 2023, marking another development in ALL's ongoing collaboration with global sporting events.

Kicking off on 8 September and taking place over 51 days in Accor's home country of France, ALL is immensely proud to be supporting rugby's largest global event on the sport's 200th anniversary. France's biggest sporting spectacle of the year provides the opportunity to promote ALL.com as a hotel booking platform, bringing to life the benefits of ALL as a lifestyle loyalty program, and showcasing Accor's hospitality expertise through its 1,600 hotels and 21 brands across the country that will welcome and host fans from across the world.

In line with ALL's promise to unlock the best rewards and create lifelong memories, ALL loyalty members will be able to access the tournament and fuel their passion for rugby by using their points at limitlessexperiences.accor.com. As ever, members of ALL also benefit from the best rates across the hotel portfolio by booking direct on ALL.com.

This sponsorship adds to Accor's existing involvement in Rugby World Cup France 2023 through its subsidiary and official accommodation bank, ResaEvents, which is providing accommodation management solutions for the tournament. It also builds on ALL members' passion for sport and Accor's rich history of sports partnerships including the Paris 2024 Olympic and Paralympic Games, Paris Saint Germain Football Club, Roland-Garros, the Accor Stadium in Sydney, a frequent host for elite sporting events including Australia's international rugby matches and the French SailGP Team.
About ALL – Accor Live Limitless
ALL – Accor Live Limitless is a booking platform and loyalty program that enhances the Accor experience during and beyond the hotel stay. Facilitating seamless connection to Accor hotels across 40+ hotel brands in 110 countries, ALL's booking platform offers an unrivalled choice of stays at the best price, while the loyalty program provides access to a wide variety of rewards, services and experiences, notably with over 90 strategic partners. ALL helps members live their passions every day with over 2000 worldwide events, from local discoveries to the year's biggest sporting and musical events and chef masterclasses. ALL – Accor Live Limitless is the loyalty program most awarded by travelers. Discover ALL at all.com.
About France 2023 Rugby World Cup
Rugby World Cup 2023 will take place in France from 8 September-28 October with matches played in nine venues across 10 host cities. The tournament will be the 10th men's Rugby World Cup and the second to be hosted by France after a memorable event in 2007.
RWC 2023 will take place in a year when the sport celebrates 200 years since Rugby School pupil William Webb Ellis was credited with inventing the game of rugby football by showing "a fine disregard for the rules" in catching the ball and running with it in 1823.
RWC 2023 will set new standards in social responsibility, inclusion and sustainability for a major rugby event, targeting four key pillars for the tournament's legacy: acting for sustainability and circular economy, supporting education, training and employment, respecting and protecting the environment and promoting inclusivity by being a champion for gender equality.
The showpiece event in men's 15s, Rugby World Cup 2023 will feature 20 teams with 48 matches played across 51 days.