Thursday 30 March 2023
Striking the balance: The trends driving business travel in 2023.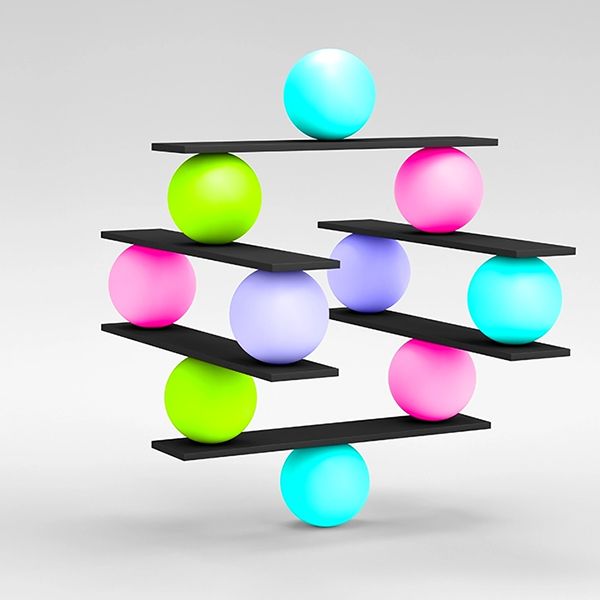 Business travel is bouncing back, not just domestically but internationally too. Domestic travel volumes are now back to 63% of 2019 levels, compared to 50% of international travel. 26% of travel managers say their international trips are now over 70% of pre-pandemic levels.[1]
Like waking up from a vivid dream, the legacy of Covid is still shaping business travel - but not always in the way you think. The pandemic reminded us why business travel matters. It highlighted the value of human support; the ability to connect when we need people the most, whether that's for training or onboarding new recruits, unifying combined creative energies in one location, or simply getting to know and build your team dynamic for strong collaboration.
It might be an influence but we certainly hope it's not a 2023 trend. So, let's take a look at what will influence how companies buy and manage travel in the year ahead.
---
People plus technology.
How organisations and their people connect with customers and colleagues is at the heart of how travel and meetings volumes will recover. Companies can see the cost of travel, but it's harder to reconcile the value generated. Quantifying a return on investment is even tougher.
The days when technology was a 'nice to have' in travel management are long gone. At a strategic level, technology enables trip-related emissions to be tracked, travel modes to be compared and keeps traveller wellbeing front and centre.
At trip level, boarding passes, rail tickets and expense management are created digitally and saved on most traveller's phones. So, no more hours spent reconciling receipts on the kitchen table!
Technology is perfect for simple transactional bookings and expense automation, but as lockdown proved, travellers find themselves in situations where they need to speak to highly skilled and knowledgeable travel experts.
Budgets are rising, but costs are too.
Two-thirds of British businesses will spend up to 50% more on business travel in 2023 than they did in the previous year,[2] although increased transport and accommodation prices are playing their part too.
Although global corporate airfares and hotel rates are set to rise by 9%, in isolation there are no signs of this deterring business trips. However, although 75% of travel managers won't be limiting their company's business travel for economic reasons [3], 60% say the economic environment, coupled with the rising cost of travel could have the greatest negative impact.
While costs might be going up, we work with the travel, meetings and events supply chain to make sure they're in line with market rates and add value to each booking with combined buying power and savvy negotiators.
Sustainability.
It's a top priority, but not everyone knows how to weave it into their programme. Corporate net zero commitments are diving sustainability to the top of 90% of travel managers' priorities. Travellers want to make more sustainable choices too; 24% would refuse a trip if it required using non-sustainable travel options.[4]
The problem is that travel managers are unsure of how best to reflect their company's sustainability commitments in travel policies. Just 6% of travel managers say their company currently allows employees to spend more on sustainable travel options.[5] Ryanair boss Michael O'Leary claims only 1% of his passengers pay the €2 surcharge to offset their flight's emissions.[6]
We recognise the part that data insight has to play in supporting sustainability objectives. Whether it's CO2 reporting for travel and meetings or some exciting new in-app traveller insights, organisations can make a difference if they can see their environmental impacts.
Flexibility vs. Autonomy.
Unsurprisingly, travel managers are reviewing their travel policies, taking into account corporate priorities, and striking the right balance between cost control, traveller preference and duty of care.
More companies want to empower their travellers to make decisions that are right for them. Some have gone as far as simply instructing travellers to 'do the right thing.' The problem is that infrequent travellers don't know what that means.
As travel policy can't be designed to meet the personal needs of every traveller's specific needs, companies are looking to flexibility. Travel policy is moving in the direction of allowing travellers to make decisions that support their unique profiles, facilitated by education and guidance linked to accessible technology. The risk is straying too far and non-compliance becoming an issue.
Duty of care and traveller wellbeing remain fundamentals.
After sustainability, traveller safety, and traveller confidence are the biggest challenges facing travel managers.[7] Despite 79% of employers having increased their focus on traveller wellbeing when on the road, 71% of travellers would quit unless their wellbeing is prioritised.
That task becomes harder in an increasingly diverse workforce, so creating an inclusive travel policy is key to traveller confidence. Travel managers need to understand their travellers' unique needs and preferences regardless of race, gender, orientation, or ability. HR functions will play a key role in making DE&I a travel programme priority.
Remote working isn't significantly impacting business travel – but blended travel is.
Bill Gates' prediction that remote working would cut business travel in half has proven premature. 75% of travel managers say flexibility to work from home is not affecting the number of business trips being taken. 14% expect remote working to lead to more business travel to enable remote teams to connect.
Closely allied to the growth in remote working is the rising popularity of blended travel, previously known as 'bleisure'. Three-quarters of working Brits plan to blend work with travel in 2023; a third of employees now take their partner or a family member on a business trip.
[8] Figuring out who pays for what, and how, during a blended trip is one challenge facing travel managers. Risk management is another.
Outlook.
2023 is looking good, but it's never all plain sailing. The important qualities in travel and meetings management come from having great people, processes and technology in place to deal with the everyday bumps in the road, but also have the strategic thinkers and problems solvers to navigate the unknowns. If you want to know what that means in reality, get in touch.
---
[1] https://www.gbta.org/business-travel-continues-bouncing-back-with-a-strong-outlook-for-2023-according-to-new-industry-poll-from-gbta/ [2] https://www.traveldailymedia.com/uk-firms-plan-to-increase-business-travel-in-2023/ [3] https://www.gbta.org/business-travel-continues-bouncing-back-with-a-strong-outlook-for-2023-according-to-new-industry-poll-from-gbta/ [4] https://www.concur.co.uk/blog/article/challenges-and-opportunities-travel-managers-2022#:~:text=Sustainability%20is%20at%20the%20top,using%20non%2Dsustainable%20travel%20options. [5]https://skift.com/2022/06/29/just-6-percent-of-companies-willing-to-pay-extra-for-greener-travel-report/ [6] https://www.politico.eu/article/people-balk-paying-more-green-flights/ [7] https://www.traveldailynews.com/regional-news/itm-trending-survey-reveals-shift-in-business-travel-buyer-priorities-and-challenges-for-2023/ [8] YouGov