Wednesday 21 June 2023
Why we're Serious about Sustainability in Business Travel & Events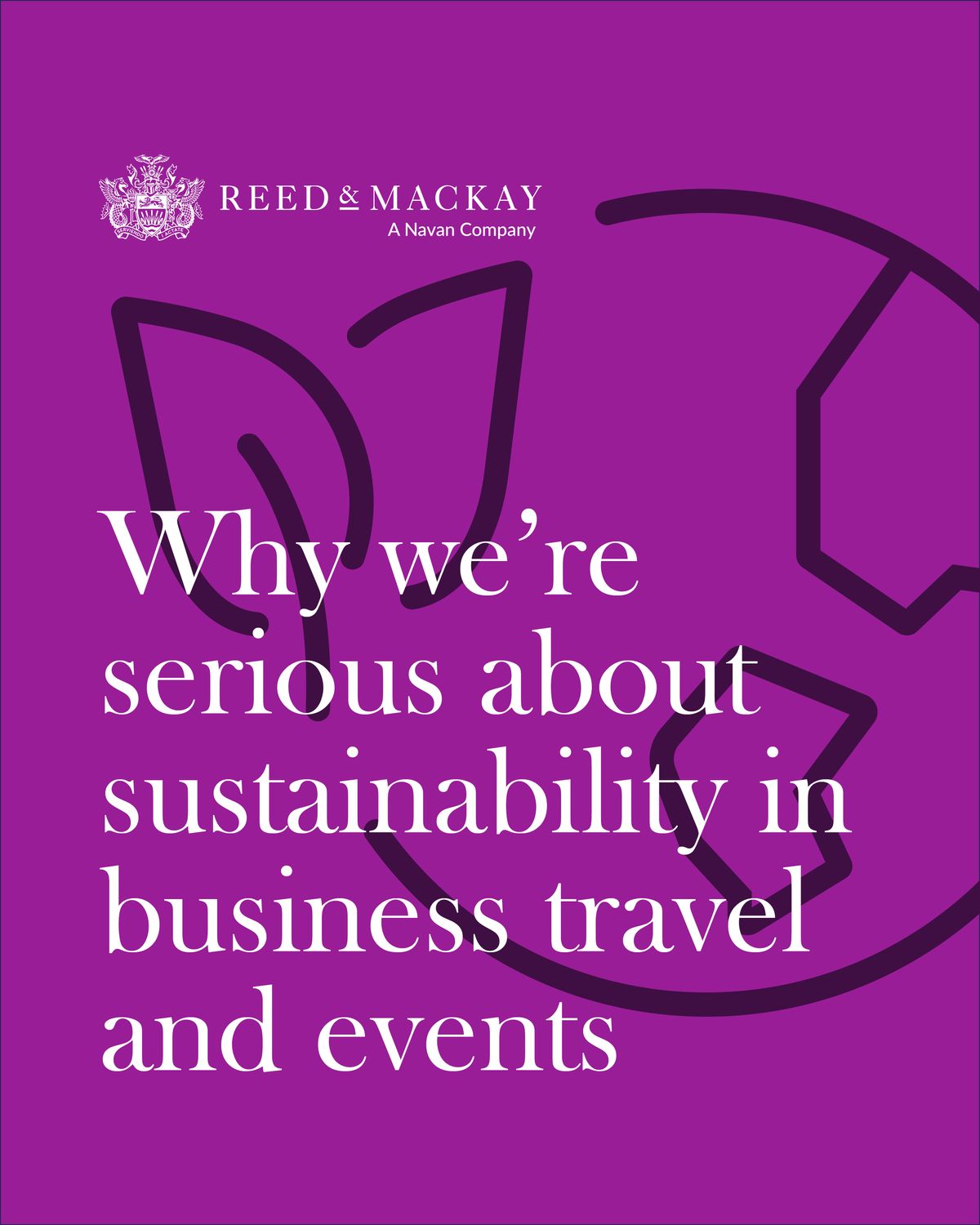 Taking your business on a sustainability journey is not a short-term strategy. As many organisations take the next steps towards Net Zero, aiming to cut CO2 emissions and help reduce global warming, seriously considering business travel's environmental impact is high on the agenda.
The effects of climate change have become more widespread. We understand how crucial it is to be both a responsible business ourselves and help educate our clients on how to reduce, mitigate and compensate carbon footprint. We're as passionate about supporting our clients on their sustainability journeys as we are about our own pledges to continue our roadmap as a sustainable and responsible business. Both have been in the making for several years.
We're proud of how we've been helping clients with their sustainability initiatives, whether that's advising how to kickstart that journey, or working with sustainability teams who are well versed in the subject, providing them with in-depth advice and solutions. Being on that journey is also becoming increasingly important now that employees are prioritising joining an organisation offering sustainable travel options, according to Business Travel News Europe, and is a key way to attract the best prospective employees.
Our next major tech innovation that will give clients the power to make informed choices around their sustainable development goals will be announced at the Business Travel Show on 28 – 29 June. Discover our sustainability journey so far, marking the commitment we have to reducing carbon emissions in business travel.
OUR SUSTAINABILITY JOURNEY
June 2020: Reed & Mackay integrates CO2 DEFRA calculations at the time of booking within our proprietary technology, R&M/Book.
January 2021: Reed & Mackay appoints its International Development Director Chris Truss as the company's dedicated Sustainability Director. Under Truss's direction, Reed & Mackay signs up to the UN Global Compact and its annual commitment on progress.
September 2021: Reed & Mackay and its parent company Navan announces a global partnership to offer Neste MY Sustainable Aviation Fuel™ to all Navan and Reed & Mackay customers. This partnership marks the first time a corporate travel and spend management company is giving customers the choice to buy sustainable aviation fuel (SAF) at scale, to help cut back on business travel's environmental impact.
March 2022: Chris Truss is announced as an integral member of the Global Business Travel Association's (GBTA) Sustainability Leadership Council, created to guide a greener future for global business travel. Over 12 months, Truss helps shape the GBTA's efforts, defining priority areas for collaborative and global action on reducing emissions and helping to raise the bar for the business travel industry overall.
April 2022: Reed & Mackay launches its inaugural Sustainability & Responsible Business Report, to highlight the work it has started on its sustainability journey.
April 2022: EcoVadis, the world's largest and most trusted provider of business sustainability ratings, awards Reed & Mackay a Gold rating – up from Bronze the previous year – placing the TMC in the 94th percentile among industry peers.
July 2022: Reed & Mackay retains its ISO 14001 (Environmental Management) certification for the ninth consecutive year.
September 2022: The TMC launches its 'Let's Talk…' series of educational briefings, starting with its work in the sustainability sphere.
October 2022: Reed & Mackay announces its commitment to set near- and long-term company-wide emission reductions targets in line with climate science with the Science Based Targets initiative (SBTi). The SBTi is a global body focusing on accelerating companies across the world to halve emissions before 2030 and achieve net-zero emissions before 2050. "This assures our clients they have chosen a travel management company that puts its sustainability plans into action," Reed & Mackay Group CEO Fred Stratford highlights.
November 2022: Chris Truss speaks at the inaugural GBTA Sustainability Summit in Brussels, discussing how the industry needs a clear plan on carbon footprint reporting and how it should be looking for ways to decarbonise aviation collectively.
In the same month, Truss speaks at the Sustainable Events Show in London, taking part in a panel discussion and demonstrating how Reed & Mackay is innovating in sustainability in the events space.
Also in November, Reed & Mackay Events signs the Net Zero Carbon Events Pledge at Cop27, hosted by The Joint Meetings Industry Council, the global umbrella organisation for the events industry supported by the United Nations Framework Convention on Climate Change.
January 2023: Reed & Mackay announces its partnership with SQUAKE, to make sustainable travel more accessible for clients through enhanced sustainability data.
March 2023: EcoVadis awards Reed & Mackay a Gold rating for the second consecutive year, as the TMC releases its second Sustainability & Responsible Business Report.
March 2023: A partnership with 4ocean, an ocean clean-up company dedicated to ending the ocean plastic crisis, is announced.
May 2023: Reed & Mackay wins the BTN Group Achievement in Sustainability – TMC Award, at the inaugural Business Travel Sustainability Awards Europe.
May 2023: Chris Truss is announced as a finalist for Sustainability Champion in the Business Travel People Awards, which take place this October.
June 2023: Colleagues at Reed & Mackay kick off the first beach clean for 4ocean.
Ongoing: Regular insights into ways to be a more sustainable traveller – from supporting local communities to highlighting the most energy efficient public transportation to take – are shared with clients and prospects through blogs, newsletters, Thought Leaderships and client case studies.
June 2023: Major tech innovation announcement to be made at the Business Travel Show on how Reed & Mackay is giving clients more power to make sustainable travel choices.
Join us at Stand J51 to find out more.
Contact us hello@reedmackay.com to discuss all your travel management and sustainability needs.