It's all about sustainability, safety and surprises on this year's easyJet stand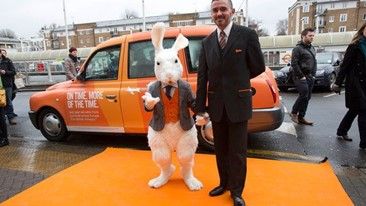 easyJet has been exhibiting at Business Travel Show Europe for many years, using the event as a valuable platform to engage the business travel community. The instantly recognisable orange team will be back in force when the show returns in-person this September at ExCeL London.
You had a great stand at Business Travel Show in 2020 with a powerful sustainability message - can you hint at plans for 2021?
Our purpose is seamlessly connecting Europe with the warmest welcome in the sky and we want to demonstrate that warm welcome on our stand at Business Travel Show Europe 2021. With Zoom fatigue setting in we aim to provide a collaborative and inclusive environment to bring people together for real, safe human interaction and help visitors unlock greater value from tighter travel budgets. Sustainability will be more than a powerful message; it will be embedded in all aspects of our stand – as it is a core commitment for us.
Tell us what it means for easyJet to be able to exhibit again at a live event and meet buyers in person.
When looking back, it is amazing to consider how much we took the opportunity to talk to each other face to face for granted. It is genuinely exciting to think of the reconnection, re-engagement and interaction that will take place at Business Travel Show Europe 2021.
I noticed you've announced new routes recently, what else is new with easyJet since Covid?
For large corporate organisations seeking the ability to include business essentials within one purchase, our FLEXI fare has been revamped with a lower price point. FLEXI provides convenience, simplicity and saves time, with key benefits including an additional cabin bag, hold luggage, seat selection, easyJet Plus bag drop, fast track security and speedy boarding, as well as free flight and route changes, changes to flight date/time or route outside of +/- 1 day of the original travel date, and FLEXI Bistro voucher. In addition, the ability to offer a greater discount off FLEXI in exchange for commitment or volume has been developed, something we look forward to discussing with corporate buyers.
What can buyers look forward to seeing from you at the show in September?
Our aim is to help them to learn more about our network, product changes, sustainability commitment and credentials and how we will be able to help them rebuild their business by providing a network and schedule to enable human interaction. There may be a surprise for them, too.
Can you share some of your favourite memories from Business Travel Show Europe over the years?
Business Travel Show Europe has always been a fun and productive event that we have enjoyed. I don't think I will ever forget opening the show with Frederic the Rabbit, the star of our first business-focused television campaign highlighting our industry-leading punctuality record.