Tuesday 6 June 2023
Why are Direct ATPI the perfect travel partner for technology?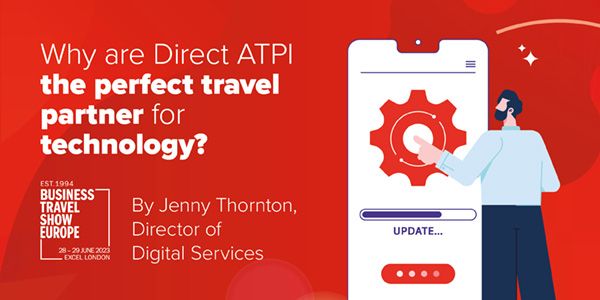 With NDC, sustainability, and innovation all hot topics in the travel industry, it's more important than ever to work with partners who understand technology and can harness its benefits.
Director of Digital Services, Jenny Thornton, explains why Direct ATPI is the perfect partner in terms of technology.
Building lasting relationships
There are many factors that contribute to being a great partner, but I believe that it is Direct ATPI's approach to relationships that makes us stand out from the crowd. A desire to create connections and build balanced partnerships lies at the heart of everything we do, driving our team to design and implement tech solutions for our clients that truly move the needle – and we're in it for the long-haul!
The number of new clients who come to us with missing content proves just how important it is to work with a partner that can offer the right balance of trust and confidence. Prioritising innovation is similarly vital, and Direct ATPI has some incredibly exciting innovations on the horizon, including integrations with platforms that we all use every day in our personal and work lives.
It is these principles, alongside our consistent entry platforms and best-in-market content, that make Direct ATPI the perfect partner in terms of tech.
Innovatively addressing pain points
In the early days of any partnership, we take a step back and focus on understanding the client's wants and needs so that we can quickly identify how we can best add value. This doesn't always have to mean reinventing the wheel; often, we're looking to see how we can improve upon existing processes and help our client avoid running into persistent pain points. By working closely together from the outset, we ensure that our client relationships are never one-sided.
Personally, I love supporting clients who challenge us to be better. This was the case with a client that recently partnered with Direct ATPI. They had fallen out of love with their incumbent provider and were constrained by their one-size-fits-all approach. We addressed this problem head on, implementing new tech solutions that are tailored to their market requirements. As a result, the client's tech adoption rates have increased in every location. Not only that but, thanks to that client, our team were pushed to deliver enhancements that have improved the work we do for our entire client base.
Efficiency and evolution
The introduction of NDC has made this a very interesting time for our industry and we're increasingly seeing big players start to introduce the content. The buyer and TMC reactions to this development have also been fascinating.
At Direct ATPI, we're very familiar with this concept already, and have had processes defined and in place for several years. We've been working this way with BA and LH since 2017, and have NDC content available for our clients to book through all our platforms. For us, it's meant evolving our processes, rather than completely overhauling the way we operate
TMCs may find this transition challenging, but I think it's something that we all need to embrace. It's all about making sure your consultants have the tools to operate as efficiently as possible, so that customers are presented with all the available options.
Smart booking and sustainability
AI discussions are dominating the tech world – and the travel industry is no different. Conversational AI is a hot topic in our industry and, whether you love or hate it, I believe it's here to stay. We should soon see the benefits of AI in our day-to-day work as it starts to drive smarter booking experiences.
Sustainability is a topic that's similarly high on the agenda for many of our clients. Travel policies that are driven by sustainability, rather than those that simply see it as a nice to have, are becoming more common, and it's a trend that's set to continue. We're already seeing an uplift in rail travel, and I hope that this increased commitment to sustainability will drive positive changes in booking processes too.
Want to join Jenny at this yeasr' show, click here: https://info.atpi.com/business-travel-show-2023-meet-us