How CTM delivers smarter CO2 calculations for business travel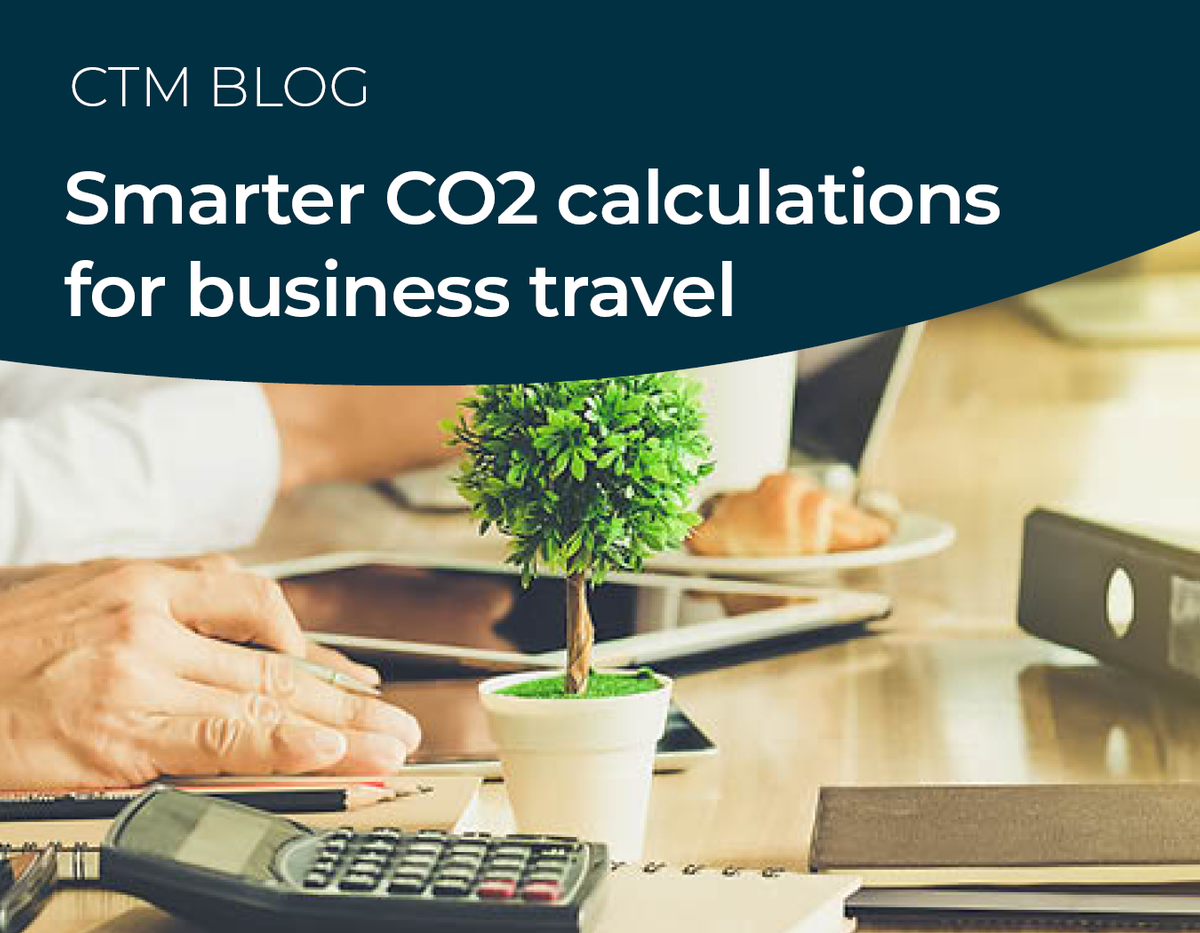 Did you know that by switching flights, you could save more CO2 emissions than it takes to power your home for an entire year?
In a joint study by CTM and RDC Aviation of popular airline routes flown by CTM's customers, we found that switching to a different flight on the same day could reduce emissions by between 19% at the low end, to as high as 49%. On a London to New York flight, switching from one airline's business class to another's on the same day resulted in a reduction of 771.63kg CO2e, compared to the 580kg CO2e to generate the 2,900kWh required to power the electricity of the average 3/4 bedroom UK home per year.
Smarter business travel CO2 calculations at the point of search and booking in Lightning
Corporate Travel Management's (CTM's) partnership with RDC Aviation brings unparalleled accuracy and granularity in CO2 emission calculations for flights, making it the top choice for business travel managers and companies seeking sustainable travel options. RDC's proprietary fuel burn calculation, combined with their comprehensive database of over 35,000 airframes, enables us to display CO2 emissions at the point of booking in Lightning that vary by flight, airline, aircraft type, and origin-destination pair.
This level of detail empowers business travellers to make informed decisions about their environmental impact when choosing which flight to take. By considering factors such as airline-specific seat configurations, cabin class, and CO2 emissions per mile, businesses, and their travellers can optimise their travel choices to minimise their carbon footprint.
RDC's calculations power search results for CO2 in Lightning in addition to our Carbon Budget tool and Climate+ dashboards dedicated to helping organisations track, forecast, and offset their carbon emissions from business travel.
How flight CO2 emissions are calculated
Here are the key factors CTM and RDC use to calculate CO2 emissions to help CTM customers make more informed decisions at the point of booking in Lightning:
Route and aircraft type plus more granular factors such as engine type, age, fuel burn, and much more to give you a more detailed picture
A comprehensive database of airlines, aircraft and engine types, and seating configurations of more than 35,000 airframes enable a more granular calculation to be made
The fuel efficiency of the aircraft type
The efficiency of the airline – seat capacity and load factor
Use of Sustainable Alternative Fuels (SAF)
Whether the route is part of a compliance or regulatory emissions programme such as CORSIA, EU ETS, etc
Whether the operator offsets emissions over and above that which is legally required.
Enter the green room – how hotel emissions are calculated
CTM uses DEFRA greenhouse gas (GHG) calculations for hotel stays. DEFRA, the Department for Environment, Food and Rural Affairs, is a UK government department responsible for environmental protection and sustainability. DEFRA has developed a comprehensive methodology adopted by companies and organisations globally to measure and report greenhouse gas emissions, including scope 3 emissions, which are indirect emissions from sources such as business travel.
Each year, DEFRA updates a global list of hotel conversion factors by country, which you can access via the UK Government's website. Here's what you need to know about DEFRA's hotel calculations:
They're based on "room by night", so the CO2 figure would need to be multiplied by three for a three-night stay, irrespective of how many room occupants
They're based on an average hotel by country that can be applied to all hotel stays in that country
City location, room size, and usage of hotel facilities like pools or gyms won't impact the CO2
How is hotel conversion data sourced?
DEFRA sources hotel conversion factors from the Hotel Footprinting Tool, a software tool developed between the International Tourism Partnership and Greenview. The tool collects data on hotel stays, such as the location, duration, and type of room from the Cornell Sustainability Benchmarking Index that uses annual data from international hotel companies and a standardised industry methodology to calculate the associated greenhouse gas emissions.
On the road to greener business travel with car hire calculations
Rental cars come in all shapes, sizes, and engine types, with varying emissions to match. Lightning makes it easy for business travellers to see the lowest emissions vehicles with a CO2 calculation for each car based on an average use of 100 miles per day. Individual car hire companies share model-type emissions with GDSs like Sabre, Amadeus, and Travelport which CTM uses to display this information.
Lightning goes further by including hybrid and electric vehicle choices, and the ability to sort and filter by CO2 emissions and engine type, so you can easily find the most sustainable choice when you need a car.
Taking charge of your programme emission with Climate+
By using CTM's combined conversion factors for different travel segments such as flights, hotels, and car hire, your travellers get accurate guidance when booking travel. With CTM Climate+, travel and sustainability managers have one intuitive set of interactive dashboards and reports to analyse and measure the scope 3 emissions associated with their employees' business travel all in one place. CTM Climate+ can be used to report on the company's overall carbon footprint, identify areas where emissions can be reduced, and forecast offsetting costs based on live carbon market data. By making use of CTM's end-to-end technology stack, organisations can develop sustainability strategies to support their business travel and contribute to the global effort to mitigate climate change.
Sources
UK Household energy expenditure
KWh to CO2e conversion