Thursday 4 May 2023
Clarity Business Travel have been awarded a Service Mark with Distinction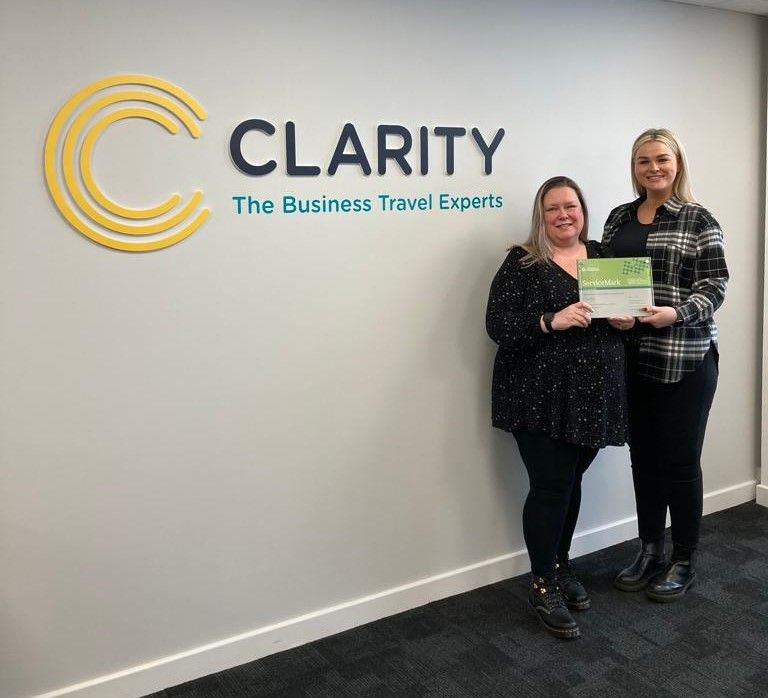 Clarity Business Travel have been awarded a Service Mark with Distinction by the Institute of Customer Service after an extensive review process.
Clarity Business Travel have been awarded a Service Mark with Distinction by the Institute of Customer Service after an extensive review process. This achievement makes Clarity the only travel management company in the UK to have gained the ICS Service Mark accreditation.
Clarity are also now only one of 22 companies to receive this achievement with distinction and Director of Operations at Clarity, Steve Riley, states:
"After such a difficult period in our industry is great to see that we have been recognised for the support that we have been able to provide to everyone who needed Clarity in one form or another."
The Service Mark is a national standard recognizing an organisation's achievement in customer service. This is awarded based on customer satisfaction feedback and an assessment of employee engagement with your organisation's customer service strategy. It helps organisations understand the effectiveness of their customer service strategy and identifies areas for improvement.
Over 100 surveys were sent out to Clarity clients asking a multitude of questions while a number of staff at all different levels of the business were interviewed to review their work satisfaction in order to find areas that were low scoring.
Once they had all the information to hand, Clarity created meaningful action plans to address these areas and methods to ensure how they can maintain their high scoring areas. The action plans were assessed by an independent auditor which then led to the business travel company being awarded the Service Mark with Distinction.
The Institute of Customer Service commented on Clarity after achieving this award:
"Customers are clearly at the heart of the organisation. Both external and internal customers in equal measure. Customer service has clearly moved a long way from being just one team or a job role to becoming a key strategic objective. It was also apparent that employees are well-connected with the company strategy and its customer ethos, and that this starts and is driven from the top. People spoke highly of their leaders and appear to be happy to be a part of the journey."
Clarity understands that this accreditation doesn't mean they are perfect, but that they have the kind of culture that is customer and colleague focused to tackle service issues. Their Head of Customer Experience, Kelly Gormley, is passionate about customer service and wanted to thank everyone at Clarity:
"Thank you to everyone that has been involved. It has been a real team effort, and everyone should be really proud that we have achieved such a prestigious award. The work doesn't stop now, this is the beginning of a journey to ensure we focus on achieving our future plans to further improve, and work towards maintaining the culture and standards that match our values."
Clarity will continue to strive to provide the highest level of customer service to all clients and this achievement shows the hard work that has already been reached.