Cathay Pacific receives Skytrax World Airlines Award for World's Best Inflight Entertainment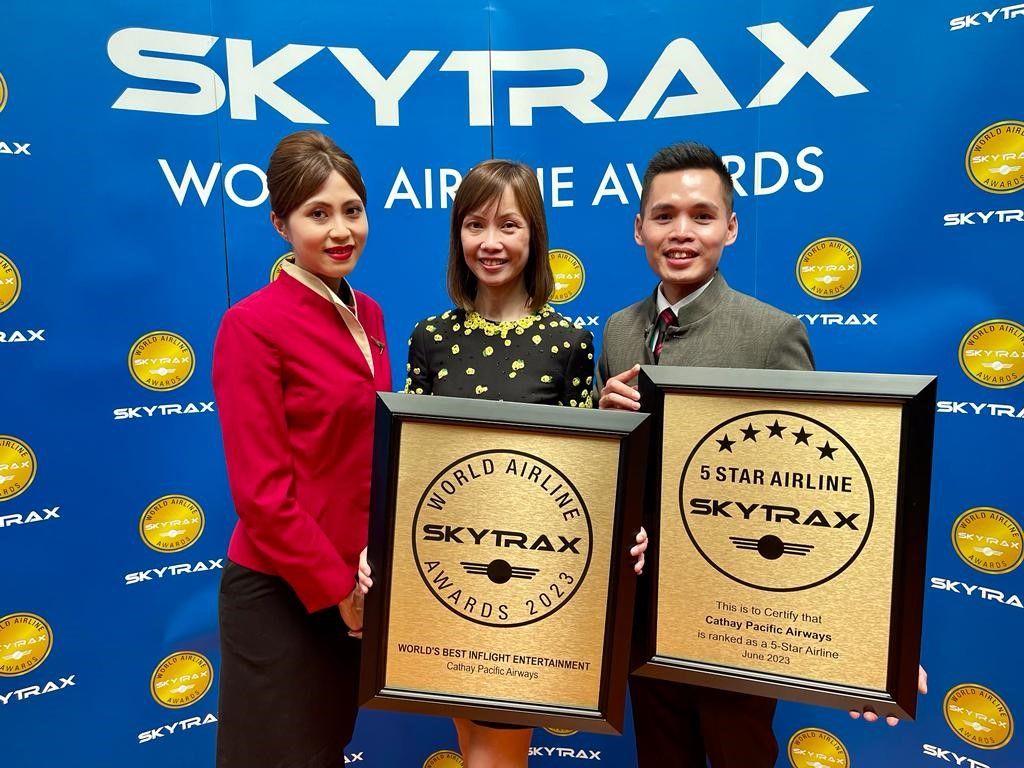 Cathay Pacific receives the 2023 Skytrax World Airlines Award for World's Best Inflight Entertainment at the Paris Air Show.
Hong Kong's home carrier is also ranked 8th in World's Top Airlines in 2023, and once again honoured with the 5-star Airline rating, one of only ten airlines that received this coveted quality distinction.
The World Airline Awards is considered one of the most prestigious awards in the airline industry. Based on a global survey of millions of passengers, they recognise excellence in areas such as customer service, cabin comfort, in-flight entertainment, food and beverage quality, as well as operational efficiency and punctuality.
Cathay Pacific Chief Customer and Commercial Officer, Lavinia Lau says, "We are extremely proud to be recognised by our customers for the high quality of our inflight entertainment offering. We place immense importance on bringing our customers content and experiences they enjoy and value. We would like to thank everyone who voted for us for the World's Best Inflight Entertainment award, and we look forward to sharing our award-winning experience with all our customers onboard."
Cathay Pacific provides one of the largest inflight movie and TV libraries globally, including an impressive collection of Asian cinema and Hollywood blockbusters. The airline has seat-back entertainment on every seat, and is proud to be the first airline to provide 4K ultra-high-definition inflight entertainment, as well as Bluetooth audio streaming, across all cabins on its Airbus A321neo fleet.
Skytrax is the international organization for rating air transport. Launched in 1999, the World Airline and Airport Star Rating program is a leading international rating system operated by the London-based company. It rates and ranks airlines and airports based on the quality of their products and services. Between September 2022 and May 2023, travellers from over 100 countries were asked about their satisfaction with 325 airlines for the current assessment.
For more information about Cathay Pacific, visit www.cathaypacific.com.