Monday 19 June 2023
The best podcast for business travel: Connections with BCD Travel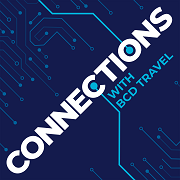 Connections with BCD Travel is an ongoing conversation on the digital transformation of corporate travel, what it means to the travel program, and how travel buyers can take control and drive change.
Co-hosted by Chad Lemon, Senior Manager, Product Marketing Operations, and Miriam Moscovici, VP, Partnerships and Intelligence, the podcast connects listeners with our subject matter experts in an anytime, anywhere format.
Topics cover sustainability, payment & expense solutions, hotel, air, duty of care, and future-fitting business travel programs.
Episodes vary in length and are under 25 minutes, with new shows being added regularly. Listen, like and download the podcasts at the link below or wherever you listen to podcasts.
Link: https://www.bcdtravel.com/podcast/