Tuesday 2 May 2023
5 Minutes with…Fahim Khan, Global Director, Product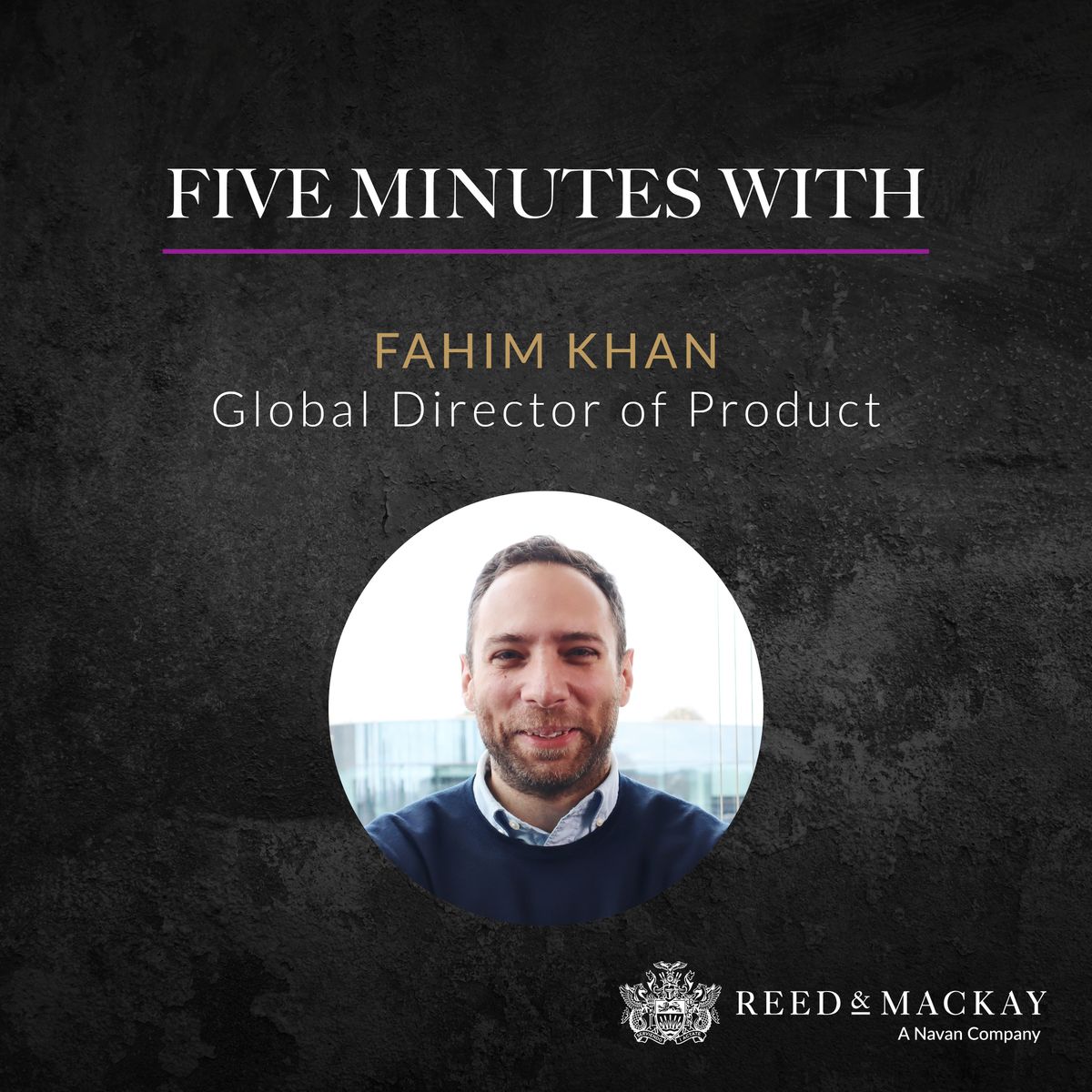 Meet Fahim Khan, Reed & Mackay's Global Director, Product, and Executive Team member, who joined Reed & Mackay for the second time in March 2023. As clients seek ever-sophisticated technology from their TMC, Fahim shares why he's excited about the tech-product space right now and how new travel technology products from Reed & Mackay will be game changers for clients.
HOW DID YOU START IN TRAVEL AND, IN PARTICULAR, CORPORATE TRAVEL TECHNOLOGY?
I fell into corporate travel by accident although my career roots are in technology. My first job was for a leisure travel agency, which was where I started on the technical side of the business, looking into how their systems were set up behind the scenes.
That morphed into working for a business travel agency – then known as Commodore Travel and eventually acquired by CTM – and it was here that I began work on its first online department. It was based on customers asking us to transition from a traditional TMC to creating something that allowed clients to book simpler trips via online booking tools. I implemented their first suite of online products.
That proved to be very successful and it was after here that I landed at Reed & Mackay for the first time, starting as Online Product Manager – where I spent close to 10 years working in product – leaving there as VP, Product – before helping to set up product at Spotnana.
WHY DID YOU RETURN TO REED & MACKAY?
I have a lot of love and loyalty for Reed & Mackay; the people are great, I love working for Fred [Stratford, Group CEO) and Tracy [Baumfield, Founder and Executive Director]; they've both been instrumental in terms of my career.
Plus I felt like I had unfinished business…we'd got to a certain point with Reed & Mackay products, then COVID hit, but we now have the chance to take the solid foundations we've laid. And, with the backing, knowledge and expertise of parent company Navan, we're really able to build a market-leading product as a high-end, high-touch TMC powered by the best technology.
WHAT EXCITES YOU ABOUT THE TECH PRODUCT SPACE IN CORPORATE TRAVEL RIGHT NOW?
Corporate travel is currently at an inflexion point, in my opinion. The landscape is going to change from a distribution standpoint significantly, particularly with how airlines are distributing their product and how technology is more readily available.
It's now easier to build and get products off the ground; there is a huge amount of opportunity. We have a real chance to differentiate in terms of our offering to our customers. That's the exciting point – the opportunity in the market and what we're doing with it.
AND WHAT EXCITES YOU ABOUT HOW REED & MACKAY IS LOOKING AT PRODUCT?
We're doubling down in our investment in terms of product and engineering. We're investing more than I've ever seen, which was part of the rationale for me to come back to this role. The investment in both people and technology means we can do so many cool things that will be of enormous benefit to our clients. And we can move faster than we have in the past.
WHAT CHALLENGES DOES THE INDUSTRY STILL NEED TO OVERCOME TO MEET CLIENT NEEDS?
As the travel landscape continues to evolve, especially with airline distribution, the challenge is working with all of the different players, how we do that collectively for the good of the traveller and how we provide customer support.
The industry needs to make sure we have a rounded solution so we can act quickly to provide the level of service customers have come to expect. As a TMC the easy part is selling the ticket; where a TMC really shines is handling everything seamlessly when plans change or something goes wrong.
HOW ARE WE PUTTING OUR END USERS AT THE HEART OF OUR PRODUCT'S DESIGN?
When it comes to product and business travel, there are two levels of customers to consider; the traveller and the travel manager/booker.
You've got to build this awesome experience for the traveller on their business trips.
Then, for the travel manager, while we make sure we have the best possible prices, we recognise they don't always buy on price; travel costs mean more than that. Their colleagues are travelling on tight schedules and have to get to their meetings. There might be a flight £100 cheaper but that will mean missing their meeting, or they might require Wi-Fi on the flight or to be booked in a particular seat so they can work on the flight.
When we're developing product ideas, we consider how we facilitate our user base to make smart decisions.
We have also built tools in our proprietary technology, R&M/Book, that allows for the easy emailing and storing of options that quickly facilitates booking for others, saving time and effort. We're always thinking how we can make our customers' experience faster, better and easier. We're giving travel managers the right tools and controls to ensure policy is adhered to, whether we're surfacing the right information around sustainability, or have the right approvals in place.
CAN YOU SHARE A TOPLINE SUMMARY ABOUT WHAT REED & MACKAY HAS PLANNED FOR ITS PRODUCTS IN 2023?
In terms of Reed & Mackay's north star principle, we're clear we want to build even more world-class products in travel technology. We're asking, 'Is it going to beat anything else that's out there?'. If the answer is no, then our job isn't finished. You need good people and a strong-enough structure behind it to make that happen. We want to be the best out there so will be continuing to build more top-tier, global product.
In terms of what we're building, there is so much on the roadmap. Highlights include focusing on ensuring we have the strongest product around sustainability in the market.
We are investing in R&M/Meet and building on the great foundations we have already laid there, as we see a real need for this. People are travelling and meeting differently to how they did before.
And it goes without saying that we'll continue to iterate and develop R&M/iQ (Agent Desktop), R&M/Book, R&M/Mobile and R&M/Portal, to ensure we continue to deliver a world-class user experience.
FINALLY, WHAT ARE YOUR TOP 3 PRODUCTS IN LIFE THAT YOU CAN'T DO WITHOUT?
These might not be particularly 'out there', but the three main products I can't do without would be WhatsApp, Microsoft Teams and Apple Fitness so I can see how badly my workouts are going!