Wednesday 28 July 2021
Covid dominates challenges facing buyers over the next 12 months as concern about role changes tops chart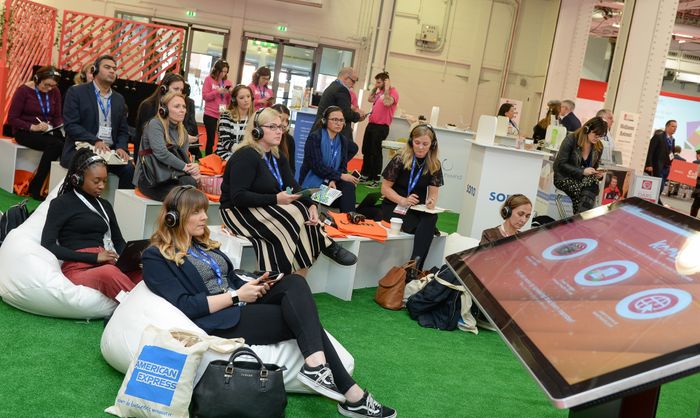 The three biggest challenges facing buyers over the next 12 months are symptoms of the pandemic, according to a recent survey carried out by Business Travel Show Europe. The poll of 337 European travel professionals placed role changes, keeping up with Covid legislation, and pandemic uncertainty at the top of the chart. The fear of increasing costs post-pandemic also appears at number eight.
For the last five years, a pressure to cut costs has featured in first or second place. This year, cost cutting dropped out of the top 10 altogether to sit in 13th position. Covid aside, airline pricing, Brexit, appointing a new TMC, budget and availability all maintain their places in the top ten. The pressure to be more sustainable – which entered the chart for the first time in 2020 – has dropped back out again to number 11.
Clare Francis is Travel Supplier Category Manager at Willis Towers Watson. She is attending Business Travel Show Europe as a buyer and a speaker this autumn. When asked about the biggest challenge facing her right now, she answered:
"Traveling for business has become a lot more complicated in the past 18 months, with the introduction of Brexit, PWD and A1 considerations, as well as the obvious Covid-related quarantine and testing requirements. However, since many colleagues haven't travelled for an extended period of time, many of these new and confusing restrictions are still unknown to them, so education and communication are going to be a big part of our "reimagining travel" strategy. It's no longer possible to make spur of the moment decisions to hop on a plane and visit an international client, which will come as quite a shock to many who have be used to doing this for years."
The biggest challenges foreseen by buyers over the next 12 months: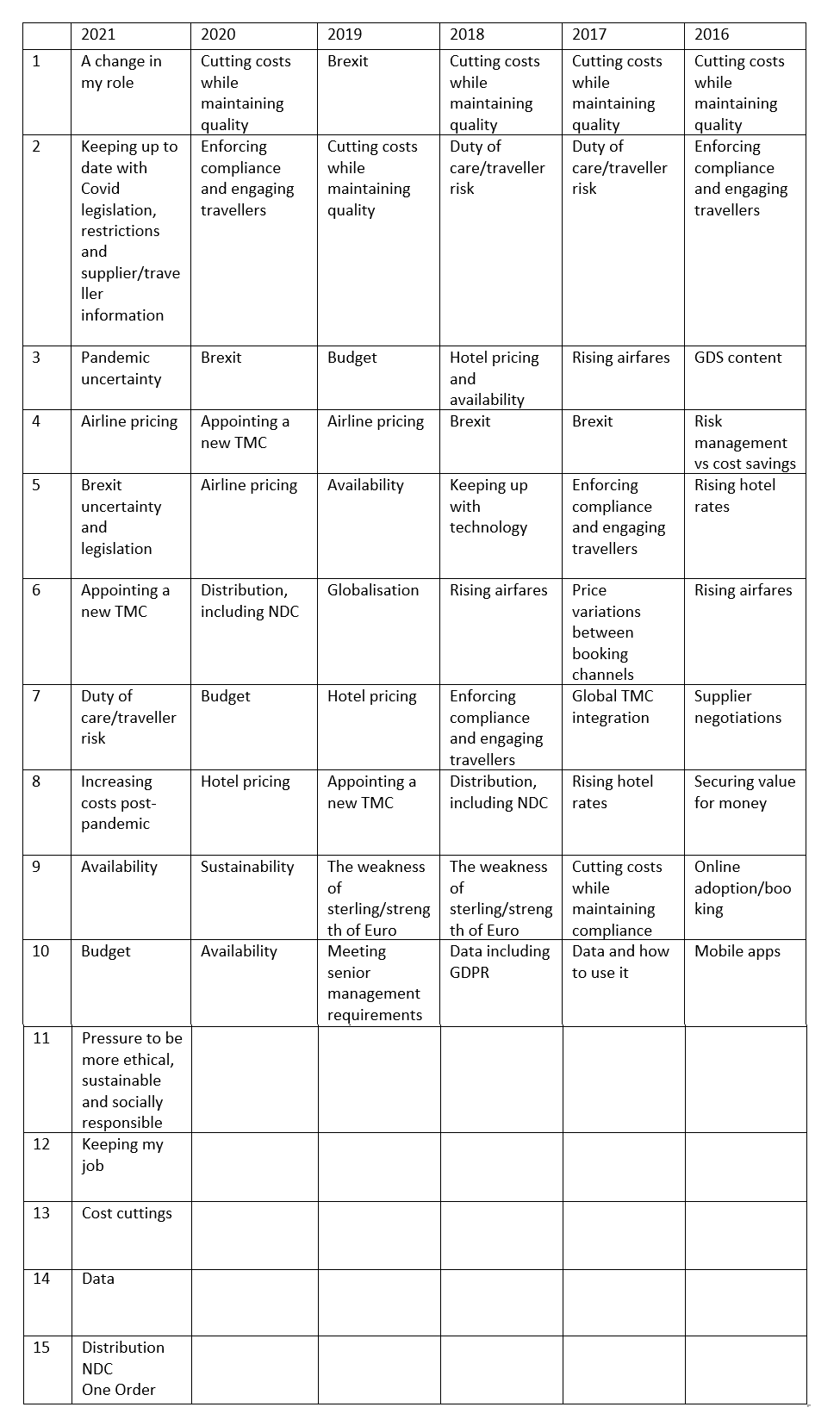 Scott Davies, CEO, Institute of Travel Management (ITM) said: "The results of this survey echo the sentiment that we are hearing from our buyer community around the challenges of conveying accurate information to travellers and bookers. This isn't just regarding different COVID travel restrictions and testing protocols, but also regulatory requirements for business travellers entering and travelling within the EU. These are complex topics, hence we recently established an EU Travel Taskforce, to support and guide travel buyers as they prepare for increased international travel volumes.
"Similarly, the results mirror how our buyer members are conscious of changes to their role. The complexities of travel buyer roles and responsibilities have pivoted and evolved over the past year in the wake of COVID-19. Additional areas that now fall within buyers' remits include new reporting requirements (such as CO2), traveller health and lifestyle expectations, and sustainability measures. Most of ITM's buyer members believe that the perceived internal value of their role and remit will increase as business travel resumes," explained Davies.
Louis Magliaro, Executive VP, BTN Group, added: "What a difference the last 18 months has made to our industry. Covid really has turned the world on its head for both European business travellers and buyers who continue to face uncertainty around the pandemic as well as non-pandemic related issues such as Brexit, sustainability and supplier/partner negotiations.
"With over 170 suppliers, including TMCs, airlines, hotel chains, ground transportation specialists and technology providers, and a two-day conference programme packed with on-the-money content, Business Travel Show Europe really is the place to find the solutions to all of the challenges facing European buyers today and over the months ahead."
337 respondents answered the question 'As a buyer what do you foresee to be your biggest challenge over the next 12 months?' as part of the 11th annual Business Travel Show Europe buyer survey in July 2021. Business Travel Show Europe takes place 30 September and 1 October 2021 at ExCeL London.