Tuesday 21 January 2020
Corporate Traveller celebrates 20 years as specialist TMC for SME-spend clients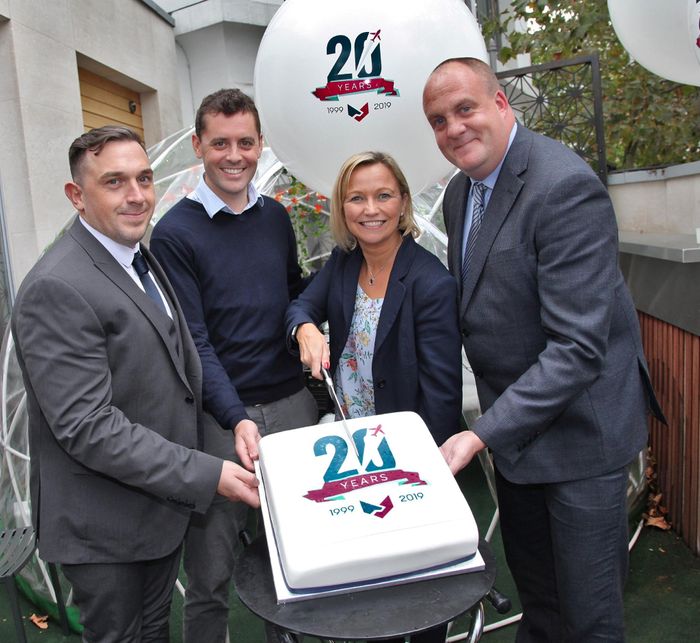 Corporate Traveller (stand B30), the specialist travel management company for clients with an SME-spend, is celebrating 20 years in business in the UK.
In late 1999, whilst the world was panicking about the potentially catastrophic Millennium Bug, Corporate Traveller decided to open its first ever UK office in Wimbledon, with one team of five travel consultants. The company has since grown to become the UK's largest TMC providing dedicated business travel services to clients with an annual business travel spend of £50K to £2M. Today Corporate Traveller has a total 400 staff, including 250 consultants operating in 60 teams at 20 offices across England and Scotland.
The TMC has gone from a handful of clients 20 years ago to managing travel for over 2000 UK corporates and 200,000 business travellers per annum. And the business is continuing to experience double digit growth year on year. Over the last 12 months, Corporate Traveller won an average of 50 new clients per month nationwide which led to a 15 per cent increase in transactions in 2019.
"The key to our success is our business model which we believe is unique in the business travel sector," explains Andy Hegley, UK General Manager, Corporate Traveller. "Small teams of travel consultants are based in our 20 offices across the UK, looking after their own client portfolio of locally-based businesses, whose spend can be anything from £50K to £2M. Each team is personally responsible for booking and managing their clients' business travel requirements on a day-to-day basis. Our travel consultants are dedicated to giving the right support and service that SME-spend companies need, adding value, proactively advising them on ways to generate cost-savings that will impact on their bottom line, and helping them growth their business."
Priorities and requirements of SME-spend clients have changed considerably since 1999. Initially, it was very much about clients wanting personal offline one-to-one service for booking business travel, as well as some form of data capture, advice on fares, and an SLA. They did not need or ask for technology. And in the early days, the primary decision maker in terms of appointing Corporate Traveller was the travel booker, PA, or office manager.
But the TMC has seen a huge change particularly over the last five years as the SME-spend market has matured significantly. Corporates of this size began taking their travel spend more seriously and realised that they needed more from their TMC in managing their whole business travel programme. Nowadays Corporate Traveller sees procurement departments and board level directors getting far more involved in the decision-making process. Clients are asking not only for online solutions, but also for much greater reporting, duty of care support, HR sync, and ISO. They are also looking for a socially responsible TMC and increasingly requesting carbon monitoring and offsetting.
"Even though our business has grown and scaled up, personal service is still at the heart of everything we do. There have been huge advances in technology in the business travel industry and we've enhanced our offering to provide solutions tailored to SME-spend clients. Yet our core proposition hasn't changed. Clients still talk about our people and the relationship they have with our consultants. Ultimately that's why they want to work with us," summed up Andy Hegley
Corporate Traveller is inviting BT Show visitors to celebrate the TMC's anniversary with drinks, canapes and cupcakes on its stand at 4pm on Wednesday 26th February.
www.corptraveller.co.uk