Thursday 23 January 2020
Capita Travel and Events' Strategic Account Manager Shines Bright With Award Win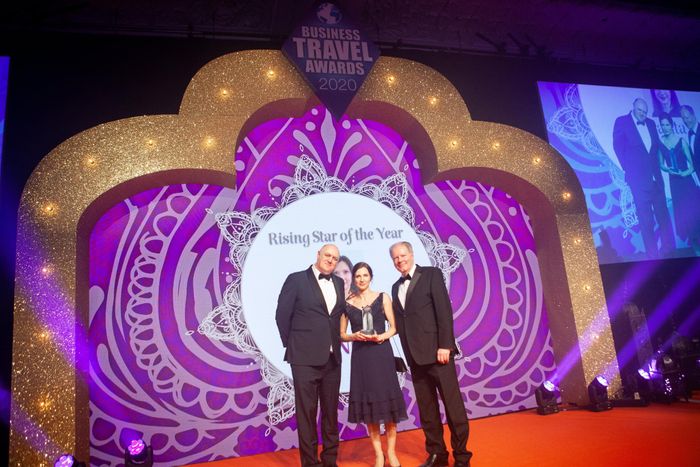 Margarita Berga, Strategic Account Manager for Capita Travel and Events, has scooped the highly sought-after Rising Star of the Year Award at the Business Travel Awards 2020.
The Rising Star of the Year category recognises the talented individuals who have achieved significant success in their short time in the business travel industry.
Judged by a panel of knowledgeable and experienced industry professionals, the Business Travel Awards final took place on 20 January 2020 at Grosvenor House, a JW Marriott Hotel, London.
Margarita was praised by the judges: "It was one of the most fiercely contested awards ceremonies in recent years, and even being shortlisted was considered a tremendous accolade. Having pushed herself and progressed her career rapidly, Margarita was the true definition of a rising star, judges agreed and noted that she still has much further to go with her drive and determination. A stand‐out winner."
Margarita began her tremendous journey with Capita Travel and Events as a receptionist, based at the Derby head office, in April 2016. Margarita made an immediate impact in terms of effective delivery, excellent customer service, innovation and driving her own initiative to massively support staff wellbeing, and within three years she progressed in different roles to become a Strategic Account Manager in 2019.
"Winning this prestigious award is recognition of Margarita's amazing story of being brave, making a new life, and achieving success through determination and passion. She is incredibly popular and we are all very proud of her. Huge congratulations to her and it is very well deserved." said Alex Singleton, Director of Customer Partnerships.
Capita Travel and Events were finalists in three categories: Best TMC (Over £200 million UK sales annually)', Best Sales Account Management Team and Rising Star of the Year. One of our valued customers, Jack Whitehead Buyer - Professional Services of Sainsbury's Ltd, was also nominated for Travel Buyer of the Year.