Monday 10 December 2018
BUYERS FEAR LONG HAUL BREXIT CHALLENGES
A Business Travel Show survey has revealed that Brexit is not only the biggest challenge facing buyers next year, it will continue to cause them problems as far ahead as 2022.

For the first time in four years, cost-cutting was knocked off the top spot of the list of forthcoming challenges to be replaced by Brexit, which shot up from fourth place –its home for the last two years. Airbus UK travel manager Geoff Allwright even admitted that Brexit is the one thing that 'keeps him awake at night'. However, our poll of 134 European buyers showed that 65 per cent of travel managers don't have a post-Brexit plan in place.

While pricing, the value of sterling, globalisation and technology also make the 2019 top ten, duty of care and traveller risk have dropped out of the chart completely after taking the second slot for the last two years.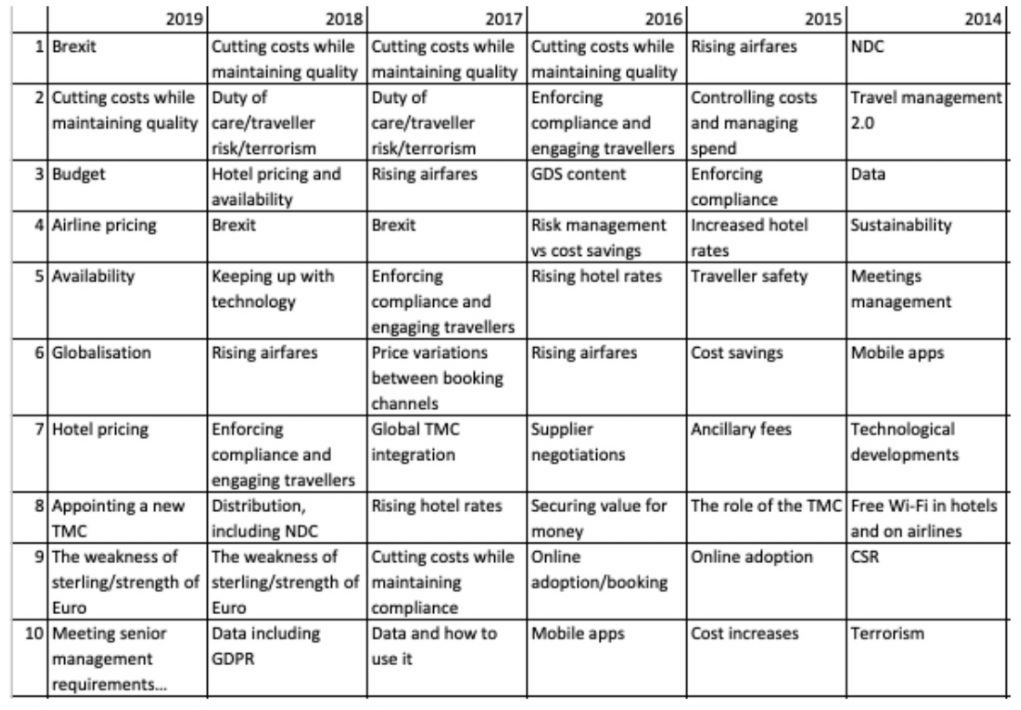 In line with the Business Travel Show's Travel 2022 theme for 2019, buyers were also asked what they expect to be the biggest challenges facing them in three years' time. Similarly, to the 12-month forecast, Brexit and cost-cutting topped the table. Visas also made an appearance at number seven, mirroring the general concern about the impact that Brexit will have on the free and easy movement of people across borders.

Business Travel Show group event director David Chapple said: "Whether for or against the UK leaving the Europe Union, the last few months have been particularly frustrating and baffling for both sides leaving everyone possibly even more uncertain about any potential outcomes than they were a year or two ago. Because of that, I think our poll captures the Zeitgeist perfectly and it doesn't surprise me that –right now –buyers are more concerned about Brexit than cost cutting."Additionally, when asked the follow up question, "What will the biggest change in the way you buy/manage travel in the next 12 months be?" buyers responded as follows, with 'no change' firmly at number one.


The Business Travel Show is the leading event in Europe for corporate travel professionals, taking place 20-21 February 2019 at Olympia London. Buyers can register for a free visitor pass at www.businesstravelshow.com/register. Buyers with a minimum annual spend of £1 million can also apply to attend as a hosted buyer at http://www.businesstravelshow.com/hosted-buyers.