Monday 7 January 2019
Bigger Budgets For One Third Of Travel Buyers In 2019
One third of buyers will have bigger corporate travel budgets in 2019, according to research by the Business Travel Show. This is on par with 2017, but down from 40 per cent last year. The poll of 134 European buyers also showed a slight increase in the number of budgets on the downturn – from 13 per cent in 2018 to 15 per cent next year.
The show's annual survey also showed fewer buyers will see a reduction in their accommodation budgets – 14 per cent compared to 24 per cent year-on-year, although there is a slight rise in buyers with less to spend on air travel – 16 per cent compared to 11 per cent.
One third of buyers will have more trips to manage, significantly fewer than the 45 per cent last year. And there was a drop in the number who forecast an increase in travel costs – from 47 per cent last year to 43 per cent.
David Chapple, Business Travel Show group event director, commented: ""The wobble shown by these results may reflect the uncertainty and dent in confidence the industry is currently experiencing in the light of Brexit. Despite the EU agreeing to the Government's plan to divorce, how Brexit will affect business travel for the UK and Europe is still very much conjecture and, unsurprisingly, organisations are remaining cautious about spend."
How budgets will compare between 2018 and 2019 including historical research data: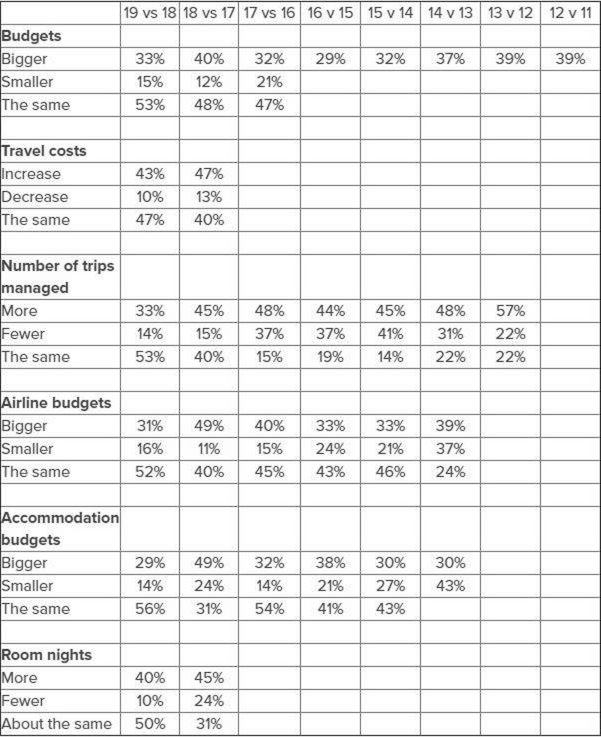 The Business Travel Show celebrates its 25th anniversary in 2019. Its theme is Travel 2022 and much of the show's content will hinge on how buyers can prepare for the future. It will welcome over 9,000 visitors, more than 260 exhibitors and over 400 buyers on its extensive hosted programme. The conference programme will feature over 90 hours of content, 88 sessions and more than 120 speakers.
Notes to editors:
134 travel buyers took part in the seventh Business Travel Show annual survey in November 2017 with responsibility for managing travel across one or more territories, as outlined below.
UK – 74%
Rest of Europe – 14%
Outside Europe – 12%
Respondents' travel budget:
Under £150k 44%
£151k - £500k 7%
£501k - £1m 16%
£1m - £3m 10%
£3m - £10m 8%
£10m - £20m 7%
Over £20m 8%
Number of travellers responsible for:
Fewer than 50 40%
51-100 8%
101-500 15%
501-1000 7%
1001-2500 6%
Over 2500 10%
NA 13%
Online visitor registration is now open for the Business Travel Show at http://www.businesstravelshow.com/register