TROOP launches an industry first with its Meeting & Events dashboard for customers, enabling visibility of all M&E activity across their business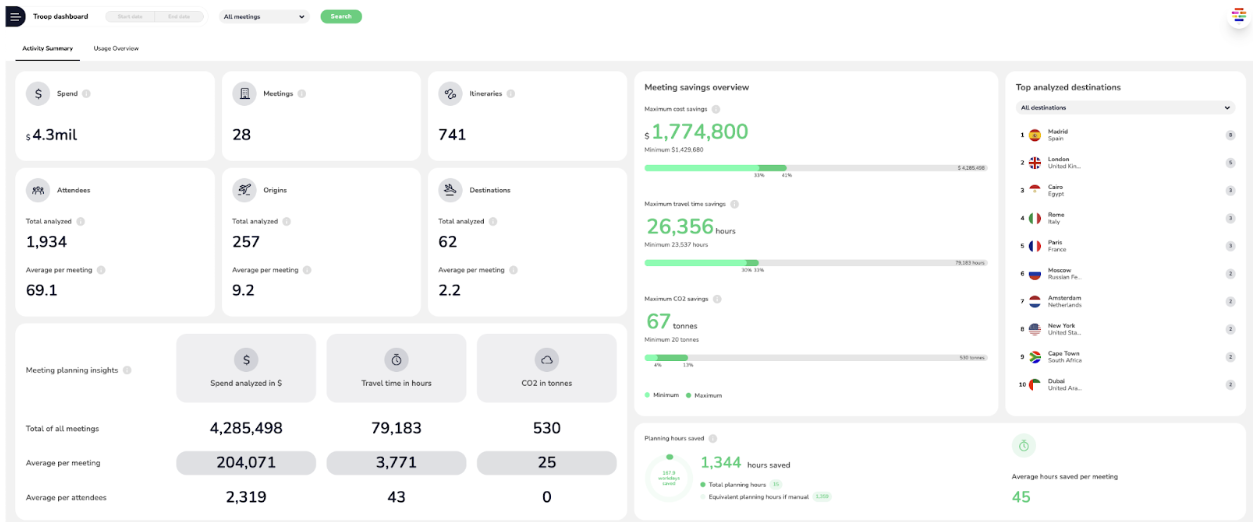 The dashboard brings together data that has not been possible to track before in an easy to use dashboard enabling the monitoring of cost, emissions and travel time related to Meetings and Events being planned.
LONDON, UK / JUNE 29, 2022: TROOP, the meeting planning technology company that makes organizing in-person meetings easy for anyone, has unveiled the release of a new data dashboard that will transform the visibility of Meeting and Events being planned across a business using the TROOP platform.
Administrators will get a 360-degree view of the type of meetings planned by users, total spend, attendees, CO2 and travel time for all meetings as well as the average per meeting and attendee across their business. They will also be able to discover the potential savings opportunities across spend, CO2 and travel time, the increased productivity that leads to a reduced search time, and the adoption rate of the tool.
These real-time insights on activity will allow Travel Leaders to have visibility on data on this hard to access side of Travel spend and use this data to monitor the effectiveness of their Meeting and Events strategy and goal achievement. User insights will enable admins to see how successful the implementation of the tool has been and identify super users to act as champions and help define the internal communication strategy.
TROOP has transformed what has historically been a heavily manual and time-intensive process into a self-service experience that facilitates the evaluation of potential locations for a meeting or event taking into account all attendees locations and travel restrictions.
Users can review data including accommodation options and locations, flight options and travel time, CO2 emissions and much more all taking into account a company's travel policy. TROOP aggregates and visualizes this data enabling planners to compare meeting destinations quickly.
Dennis Vilovic commented: " Today marks the release of our first Data dashboard for customers. Meeting and Event data has always been very difficult for companies to access and this data dashboard solves this problem. Now companies can access realtime data on all Meetings and Events being planned across their business in the knowledge that their users are getting the best data to base their decisions on where to meet and who should attend in person. This not only saves money and time but also enables the avoidance of CO2 emissions for the first time by choosing a lower emissions destination. This is our first Data dashboard and we intend to continue to innovate, introducing benchmarking and other enhancements in the future to deliver even greater value to our customers."

About TROOP
Founded in 2017 by co-CEOs Dennis Vilovic and Leonard Cremer, TROOP's mission is to make organizing a meeting effortless for anyone. Vilovic, based in Madrid (Spain), and Cremer, based in Johannesburg (South Africa), started the company to create an easy-to-use data-driven meeting planning and management tool. TROOP is an effective platform for planning and booking small or large meetings for companies of any size and location.
TROOP is the only platform that gives visibility of all the data that meeting planners need to decide where the best location is for the next in-person meeting by analyzing risk, cost, and even CO2 emissions.
The platform is benefiting meeting planners by removing all the manual work required to pull together pricing, availability, sustainability, and safety data. In September 2021 TROOP announced a $8 million Series A investment round to accelerate the success of its meetings management platform and has received multiple industry awards, including the Phocuswright Innovation Award and the Disrupt Award from the Business Travel Show. For more information, please visit www.trooptravel.com