Tuesday 1 March 2022
Opening of the Adina Hotel Dusseldorf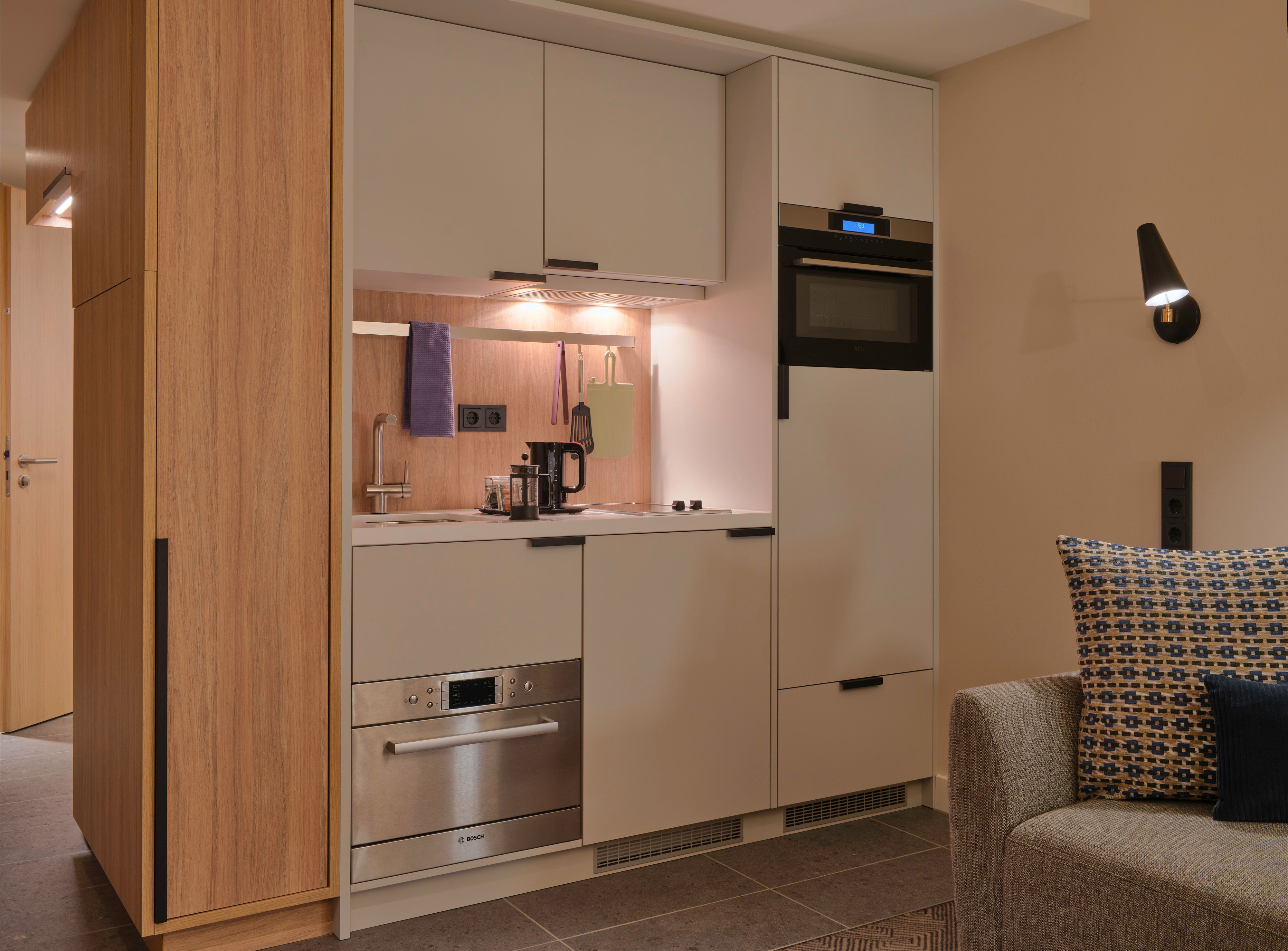 Located in the immediate vicinity of the main railway station, it offers business as well as leisure travellers a temporary home away from home with fully equipped apartments and 4-star hotel services. The Adina Dusseldorf is the first of two hotels Adina is opening in Europe this year.
The Adina Hotel Dusseldorf offers its guests 201 fully equipped studios and apartments, with a size of at least 28 sqm, at the newly designed area along Harkortstraße, directly next to the main railway station. In addition to the hotel's own restaurant, there is a spacious conference area on the ground floor as well as an open co-working space and additional meeting rooms on the first floor. This makes the Adina Dusseldorf particularly suitable for business and bleisure travellers. With its central location and spacious apartments, which include their own kitchen, and services such as a breakfast buffet and room service, the hotel also offers the ideal accommodation for a city trip with friends or family. The highlight of the hotel is the seventh-floor wellness area with a pool, sauna and gym that overlooks the hustle and bustle of the main station.
"The opening of our hotel in Dusseldorf, one of the most important business locations in Germany, is another milestone for Adina's growth in Europe," says Georgios Ganitis, Director of Operations Europe at Adina Hotels. "We also have an interesting mix of business and leisure travellers here, and our apartment concept will appeal to both groups. It's always great to see guests with very different needs feeling at home with us – and I'm convinced that we will also receive a lot of positive feedback in Dusseldorf."
The General Manager of the new Adina Dusseldorf is Julian Gaus. The experienced hotelier started in his position in July 2021. "We have a few exciting months of preparations behind us and now, together with my team, I am looking forward to finally welcoming our first guests," says Gaus.
The Adina Dusseldorf is one of two hotels that Adina opens in Europe in 2022. The Adina Hotel Stuttgart is scheduled to open on 21 March. Four other new hotels have already opened in Cologne, Munich, Wiesbaden and Vienna in 2021. With the Adina Geneva, the opening of the first Adina hotel in Switzerland will follow in 2023.
More information about Adina Hotels can be found on www.adinahotels.com/en and on Instagram and LinkedIn.
For press releases and images, please visit our Adina Newsroom.