Friday 3 June 2022
ANA to Introduce Special ANA Future Promise Aircraft to Highlight Commitment to ESG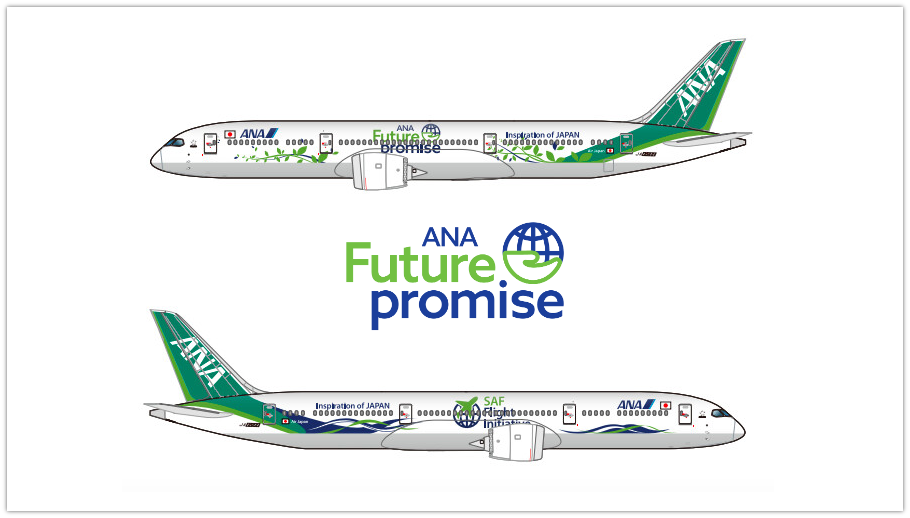 As a symbol to highlight the company's commitment to its ongoing ESG initiatives, two 787 aircraft will be unveiled with the ANA Future Promise livery in the fall this year.
The specially designed aircraft will feature special services and in-flight goods focused on sustainability and handling measures to reduce CO2 emissions.
ANA will gather the feedback from the customers on the various measures and analyze them in order to expand the efforts to other flights in order to achieve the ANA Group's mid-to-longterm ESG goals.
TOKYO, June 3, 2022 – All Nippon Airways (ANA), Japan's largest and 5-Star airline for nine consecutive years, today announced a new initiative featuring two 787 aircraft with a special ANA Future Promise (AFP) livery and special services focused on promoting sustainability and reducing CO2 emissions. This new dedicated initiative comes a year after the launch of the ANA Future Promise, which encompasses activities across environmental, social responsibility and governance areas.
"Sustainability is a central operating principal to our company and the ANA Future Promise demonstrates commitment to our social responsibility and environmental sustainability goals, and we are excited to get our customers involved and raise awareness in these initiatives with the dedicated AFP 787s," said Shinichi Inoue, President and Chief Executive Officer of ANA. "We previously announced our ambitious ESG goals and this is another milestone to build on the importance that ESG has to our airline and global customers."
The ANA Future Promise aircraft will be introduced later in the fall this year and will be a showcase of ANA's efforts to incorporate sustainability into our services and products.
Details on the ANA Future Promise aircraft
Two Boeing 787s will be specially painted with a design symbolizing "water and greenery" to convey the concept of sustainability, and will be operated on domestic and international routes (one aircraft each).
Launch Date
To enter service in October 2022

Routes/

Aircraft

To be used for scheduled domestic and international flights
Boeing 787 aircraft: JA871A (B787-9), JA874A(B787-8)

*Announcement will be made once the details are finalized
Initiatives (tentative)

Usage of products and services using sustainable materials:

Promote the 3Rs (reduce, reuse, recycle) among in-flight service products, aircraftupplies, and in-flight meals (i.e. packaging materials for supplies, garbage bags, etc.)
Collaborate with various business partners involved in the development of sustainable products and services.
Expand in-flight meal menus using food ingredients grown using compost derived from in-flight meal waste.

Upcycling:

Further promote the product development of goods using disposed or unused goods, and expand sales of the upcycled products.

Contribution to society:

Aim to realize "universal tourism" to create a comfortable and friendly environment for all people.
The ANA Group has set a medium-to-longterm environmental goal of achieving zero CO2 emissions from aircraft operations by 2050. We will continue to work with our customers and all stakeholders to promote ESG and achieve this goal.
Contact: ANA Corporate Communications, TEL +81-3-6735-1111, publicrelations@ana.co.jp