Thursday 30 June 2022
Why do you need business meeting planning software?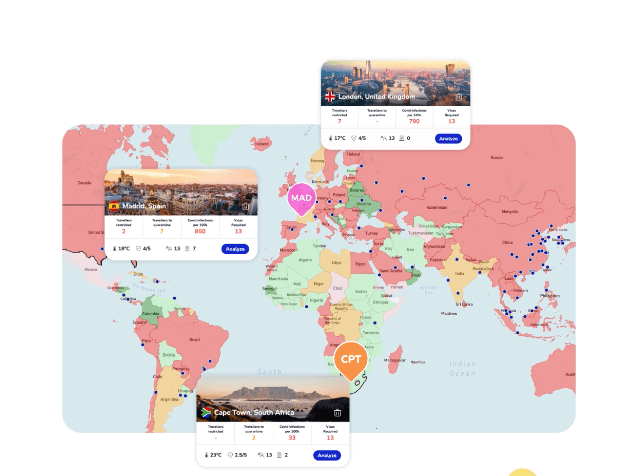 Being a meeting or event planner can be extremely rewarding, although it can also be exhausting. These roles have been listed as some of the top five most stressful jobs, with some organizers working up to 20-hour days. This is why business meeting planning software can be essential.
The importance of having the right tool
Having the right business meeting planning software can make a world of difference. A set of event and meeting management tools will not only save you time taking care of logistics it can also improve productivity and create the best meeting and events.
With many meetings and events already moving back to in-person, a majority of countries still have COVID regulations and travel restrictions in place. That is why having a tool with all the updated data is essential to make sure your next meeting or event goes smoothly.
Productivity and efficiency
Businesses spend $100 billion per year on meetings and conventions in the U.S. In many organizations, this spend represents 4% of annual revenue. Yet most companies have no way of knowing exactly what they're spending or where. The situation is even worse when it comes to small meetings, as these are the intimate sales meetings and offsite events for training employees, recruiting talent, setting strategy and celebrating team successes. Many of these gatherings are booked independently by managers and executive assistants throughout the company, not routed through a centralized meeting department. And of course, many organizations don't use any business meeting planning software, which makes the process long and tedious, all based on manual research and opinions.
Meeting planning ends up being an almost random process where there is no efficiency.
Is there any tool that can help meeting planners meet their productivity goals?
Focus on productivity goals
TROOP is a meeting planning software on a mission to reinvent meeting planning, taking what is an inefficient process today and making it simple and quick for anyone.
The platform powers decisions for global organizations across multiple industries by providing all the data required to make the best decision on how to meet, be it Covid related restrictions, costs of travel and accommodations, the environmental impact or the travel experience such as needing a visa or taking a stopover flight. It provides up to date data to make the right decision on whether to meet in person, virtually or in a hybrid format, which is a must have for companies nowadays.
Besides, the platform also takes into account staff wellness, which is key to optimizing performance in today's workforce. It helps meeting planners understand the range of timezones people are attending and the time spent traveling to attend the meeting, which allows for more thoughtful scheduling of the meeting and choice of location.
Do you want to know more about TROOP? Visit the team on stand F41 at Business Travel Show Europe at ExCeL London 29,30 June.
Business Travel Show Europe returns to ExCeL London on 28 & 29 June 2023!