Friday 10 June 2022
Meet the new, rail-revolutionizing, planet-saving Pendolino trains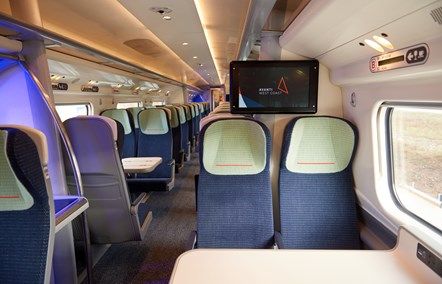 Going by train is always the most sustainable option (cutting your carbon emissions by two-thirds compared to making the same journey by car). But now it's also perhaps the best travel experience you can have too, thanks to the arrival of our first newly refurbished and dramatically transformed Pendolino trains.
We're investing £117 million in feel good travel to super-charge your comfort onboard, make a bigger difference to the planet and, basically, blow your socks off.
What's new and good for business onboard our transformed Pendolinos:
New, ergonomic, extra-comfy seats in First, Standard Premium and Standard
More than 2,000 extra Standard Class seats, to help budgets go further
Power points at every seat
Laptop-friendly seat backs in Standard Class
State of the art technology including new onboard passenger information screens
Enhanced, upgraded lighting and new carpets
More luggage space for briefcases and bags
New onboard shops
Refurbished toilets
What's new and great for sustainability:
Tables made from recycled water bottles
Onboard recycling bins
Water refill stations in the onboard shop
Sustainable products used in the re-build, including British wool carpets
Locally sourced food and drink wherever possible – our onboard menus will tell you where our ingredients come from
And of course, there are all the existing benefits of business travel by train. Not only can we whisk you from city to city at 125 mph, but there's also no faster way to cut your carbon footprint. A 401-mile train journey from Glasgow to London emits just 24kg of CO2 per passenger. Make the same trip by car and that number jumps to 109kg, while flying will rack up a whopping 158kg of CO2.
As we get into the swing of meeting people in person, it's good to know that you can make a big impression without making a big impact on the planet too.
The Pendolino upgrade programme will run until 2024, when the last of the 56 strong fleet is expected to leave the depot and change the world of train travel. And supporting British businesses is right up there for us, with at least 80% of the work involved in our £117 million investment is going to UK firms.
So why not come along and see how Avanti West Coast are transforming business travel for yourself? We're at Stand J41 at the Business Travel Show Europe, 29-30 June at ExCeL London. Registration is open now. Standing by to blow those socks off.