Tuesday 28 September 2021
Around The World in 600 Days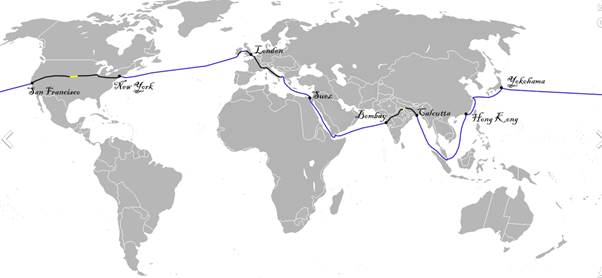 Back in 1872 Jules Verne first published his adventure novel 'Around The World in 80 Days'.
As the story goes friends of the main character Phileas Fogg challenged him that he could not circumnavigate the globe in 80 days. The wager was £20,000, not a small amount all those years ago, in today's money that is around £1.9M.
Let's put this fictional adventure into perspective, the world was less developed, the main forms of transport were trains, ships and horse-drawn carriages. To navigate around the world would have been a massive costly undertaking which would have required lots of logistical planning and support from various sources, including an early form of a travel agency, perhaps at the time Thomas Cook & Son, providers of guidebooks, luggage and hotel vouchers. The value of the travel agency would have been evident all those years ago.
Fast forward to 2021 and soon 2022 how the travel landscape has changed after almost two years of border closures, travel restrictions and reduced service schedules. There was once a time where a 'Round The World Ticket' would have been so easy to construct, airline alliances promoted frictionless travel, there were multiple schedules available and classes of travel to chose from. The modern traveller had a choice, in all facets of travel and accommodation. The world had become smaller. Travelling around the world could be completed logistically in 7-10 days, faster if your budget allowed. The travel management company was the conduit pulling those logistics together and making travel simple.
As I write this article a number of borders remain closed, which is significant because anyone wishing to replicate Phileas Fogg's itinerary would struggle to undercut the time it took to complete his journey. This is not an exaggeration, because if we look at his route, quarantine measures would severely impact the trip duration, stopovers in additional countries to bypass direct entry rules and delays caused by limited flight schedules would all have had a knock-on effect. Considerations must also be given to traveller wellbeing as quarantine leads to periods of self-isolation which ultimately would be a drain on the strongest traveller, something that was unheard of over 150 years ago.
I don't believe anyone will be challenging travellers to circumnavigate the globe any time soon, but if they do then a travel management company should be the first port of call.
Even those point to point itineraries that are starting to emerge are better handled by a human over a computer. We already know that reservations are being touched on average five times more than previously, there are significant checks required, the sourcing of information and knowing where to find it is key. Then there are the other considerations and management of travel policies, plus key elements that are so important in an evolving travel programme. Does the transport element match the sustainability aspirations laid out in the carbon offset policy, does the accommodation have correct accreditation to satisfy duty of care requirements? Advantage Travel Partnership members have access to a wide range of tools to support the demands of a post covid travel programme.
So, whilst the role of the travel agent hasn't changed, it has certainly evolved in the years since Phileas Fogg embarked on that fictional mammoth journey across a developing world, in a race against the clock the itinerary had to be changed multiple times often at short notice. Creative thinking and being agile was key then, chartering an elephant to replace a train or using a cargo ship in place of a passenger steamer. Today there are many similarities, itineraries are amended, rerouted and cancelled as the travel landscape changes.
Our TMC members are reactive, creative and knowledgeable, they are the trusted advisors and continue to play a hugely important role in providing travel services.
Just as Thomas Cook & Son's provided Travel Guides, Hotel Vouchers and Luggage to Phileas Fogg and similar earlier adventurers, the Advantage Travel Partnership members provide all these services and so much more. The only difference between 1792 and now, the prize is far greater, if global business travel can get back to some normality a slice of the projected $1Trillion spend is on the table. With the US due to open its borders to EU and UK travellers imminently we are that step closer to being able to plan for global travel for the first time in around 600 days!
This blog was posted by John Hobbs-Hurrell, Head of Advantage Global Travel Network. The Advantage Global Network (advantageglobalnetwork.com) was formerly known as WIN Global Travel Network.​​
Advantage Travel Partnership is the UK's largest independent travel agent and travel management company partnership, who are exhibiting at Business Travel Show Europe this week on stand B122. Please register for your free visitor pass here.